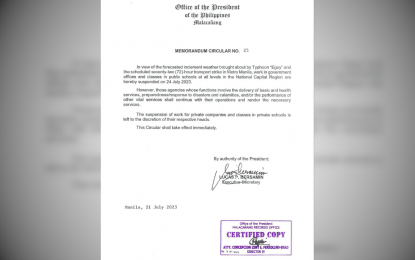 MANILA – Malacañang has ordered the suspension of work in government offices and classes in Metro Manila on July 24, in anticipation of Typhoon Egay and the 72-hour transport strike.
Memorandum Circular (MC) 25, signed by Executive Secretary Lucas Bersamin on Friday, declared the work and class suspension for Monday, the day when President Ferdinand R. Marcos Jr. is also set to deliver his second State of the Nation Address at Batasan Pambansa Complex in Quezon City.
"In view of the forecasted inclement weather brought about by Typhoon Egay and the scheduled 72-hour transport strike in Metro Manila, work in government offices and classes in public schools at all levels in the National Capital Region are hereby suspended on 24 July 2023," said the order that was made public on Saturday.

In a statement, Communication Secretary Cheloy Garafil said MC 25 was issued "to ensure the safety of the public from the effects of Typhoon Egay and to alleviate the effects of the scheduled 72-hour transport strike."

Under MC 25, government agencies that are involved in the delivery of basic and health services, preparedness or response to disasters and calamities, and/or the performance of other vital services, will continue with their operations and render the necessary services.
The suspension of work for private companies and classes in private schools is left to the discretion of their respective heads.
Egay was last spotted 750 km. east of Virac, Catanduanes, with maximum sustained winds of 65 kph near the center and gustiness of up to 80 kph, according to the weather bureau's 11 a.m. bulletin.

The typhoon is forecast to intensify into a severe tropical storm in the next 24 hours and may reach the super typhoon category on Tuesday or Wednesday while over the Philippine Sea east of Extreme Northern Luzon.
Meanwhile, transport group Manibela earlier bared its plan to hold a three-day transport strike beginning Monday.
Manibela chair Mar Valbuena said the strike was due to the government's failure to address various concerns of public utility vehicle (PUVs) drivers and operators, as well as its alleged preferential treatment towards corporations or local government units in awarding PUV routes. (PNA)