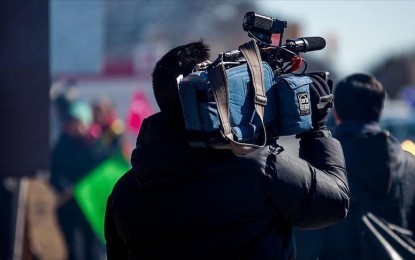 MOSCOW – Rostislav Zhuravlev, a Russian war correspondent, was killed and three other journalists suffered serious injuries on Saturday as a result of shelling by Ukrainian forces in the Zaporizhzhia region of southeast Ukraine, officials said.
According to the Russian Defense Ministry, these journalists were filming a documentary about the use of cluster bombs by Ukraine.
"On July 22, 2023, at about 12:00, the AFU (armed forces of Ukraine) units launched an artillery strike on a group of journalists from the Izvestia News Center and the RIA Novosti news agency, who were preparing materials about the artillery shelling of the AFU with cluster munitions of settlements in the Zaporizhzhia region.
"As a result of the APU strike with cluster munitions, four journalists were injured of varying severity," the ministry said. However, Zhuravlev, who was associated with RIA Novosti, later passed away from his wounds.
In a separate statement, Russian Foreign Ministry spokeswoman Maria Zakharova said "everything points to the fact that the attack on the journalistic group was no accident."
The spokeswoman alleged that the relevant international structures "will turn a blind eye on the heinous crime, which makes them complicit in the terrorist lawlessness of Kyiv."
"The silence of such institutions does not mean that evil has been granted an indulgence for murder and the desire to drown out an inconvenient truth. Those guilty of the brutal massacre of a Russian journalist will inevitably suffer the punishment they deserve," she stressed.
She also said the responsibility for the killing also lies with those who supplied Ukraine with cluster munitions. (Anadolu)