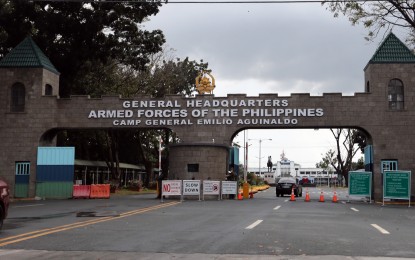 MANILA – The Armed Forces of the Philippines (AFP) on Monday said it would deploy 17 vehicles to help ferry passengers affected by the ongoing transport strike.
"In support to the Department of Transportation (DOTr) and Metro Manila Development Authority (MMDA), the Armed Forces of the Philippines will be providing 17 military trucks, buses, and coasters from the AFP Major Services and AFP Logistics Command to assist commuters who may be affected by the transport strike on July 24 and the following days," AFP spokesperson Col. Medel Aguilar said in a statement.
He added that this is also part of the AFP's efforts to help ensure the peaceful and orderly conduct of the President's State of the Nation Address this Monday afternoon.
Aguilar said these vehicles for the "Libreng Sakay" program will be under the operational control of the Joint Task Force-National Capital Region.
"They are in their respective headquarters until they are given service routes determined by the DOTr and the MMDA. The military vehicles will be deployed when called upon by the Interagency Coordinating Center," he added.
Memorandum Circular (MC) 25, signed by Executive Secretary Lucas Bersamin on July 21, declared the suspension of classes and work in government offices in the National Capital Region for Monday in anticipation of Typhoon Egay and the 72-hour transport strike. (PNA)