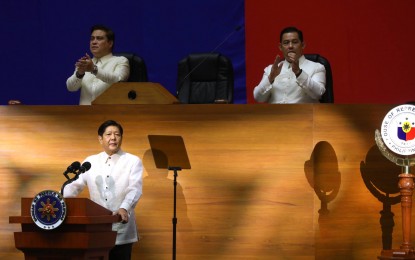 MANILA – President Ferdinand R. Marcos Jr. on Monday described the Philippines' current state as "sound and improving," despite the pressing issues the country is facing.
After citing the accomplishments and challenges of his administration in the past year, Marcos expressed said it is now time for the "new Philippines" with "world-class quality workforce."
"That confidence has been further buoyed by their demonstration of love for the Philippines. They have unanimously risen to the challenge that we have made to them to be part of the nation's future," Marcos said before ending his second State of the Nation Address (SONA) delivered at the Batasang Pambansa Complex in Quezon City.
"Handa silang maghandog ng tulong, dahil mahal nila ang kanilang kapwa Pilipino, at mahal nila ang Pilipinas (They are ready to provide help because they love their fellow Filipinos and the Philippines). With this in my heart, I know that the state of the nation is sound, and is improving. Dumating na po ang Bagong Pilipinas (The new Philippines has arrived)."
Marcos attributed the achievements of his administration to the "enormous pool of highly competent and dedicated" public servants.
He also gave credit to the those who helped bring progress and development to the country, including the "farmers in the field, corporate giants, government officials, school teachers, health workers, or employees."
This, as he recalled the promises he made during his first SONA last year.

Economic development
True to his vow to improve the Philippine economy, Marcos bragged that the country's growth momentum peaked at 7.6 percent in 2022, the "highest growth rate in 46 years."
"For the first quarter of the year, our growth registered at 6.4 percent. It remains within our target of 6 to 7 percent for 2023. We are still considered to be among the fastest-growing economies in the Asian region and the world. It is a testament to our strong macroeconomic fundamentals," Marcos said.
Marcos also stressed that transactions in the country "once again flourished" following the further easing of pandemic restrictions.
As part of the economic transformation bid, Marcos said his administration is committed to stabilizing the prices of all critical commodities, noting that inflation rate is "moving in the right direction."
"From 8.7 percent in January, our inflation has continued to ease up in all regions, settling at 5.4 percent this June. What this means is that in spite of all the difficulties, we are transforming the economy," he said.
Competitive workforce
To generate more jobs in the country, Marcos said he embarked on foreign trips to promote the country's interests and attract more investments.
"Those economic missions have yielded an estimated total investment value of 71 billion US dollars, or 3.9 trillion pesos, with a potential to generate 175,000 jobs," he said.
Marcos said his administration is focused on taking advantage of science, technology and innovation to drive the quality and competitiveness of our workforce.
Such move, he said, would also entice the business community to invest in various fields such as the manufacturing, export, creative and service industries.
He said the bane of the mismatch between jobs and skills among the workforce is "being rectified" through strengthened government-industry-labor-academe partnerships, and continuous reskilling and upskilling training programs.
Citing the 95.7-percent employment rate reported as of May this year, Marcos said it is a "clear proof of the improvement from the severe unemployment that we experienced during the height of the pandemic."
"Employment then was at a low of 82.4 percent. But even with our current high rate of employment, we must do more. We will generate additional jobs for the remaining 4.3 percent of our workforce, as well as for the 11.7 percent underemployed Filipinos seeking better employment opportunities," he said.
Improved agricultural production
Marcos, the concurrent Agriculture secretary, reiterated his commitment to ramp up the production of agricultural commodities in the country.
He said his plan would be realized through consolidation, modernization, mechanization, and improvement of value chains, "augmented by timely and calibrated importation, as needed."
"In our quest for food security, our methods are now more guided by science and the balance of nature, so that production is both sustainable and responsible, benefiting both this and future generations," Marcos said.
Marcos likewise warned anew smugglers and hoarders of agricultural products that their days "are numbered."
Total electrification
Marcos also emphasized his plan to attain "full household-electrification" by the end of his term.
He said his administration would be relentless in pursuing "total electrification."
"Since my assumption into office, almost half a million homes have been given access to electricity," Marcos said.
"One-hundred percent electrification is within our reach, he added, noting that "renewable energy is the way forward."
He said the government is "aggressively" promoting renewables, so that it provides a 35 percent share in the power mix by 2030, and then on to 50 percent by 2040.
"To accelerate the realization of this green energy goal, we have opened renewable energy projects to foreign investments," Marcos said.
Since 2022, an additional 126 renewable energy contracts with potential capacity of 31,000 megawatts have been awarded.

Maharlika Investment Fund (MIF)
Marcos also cited the establishment of the MIF, the country's first-ever sovereign wealth fund, as among his administration's achievements.
He said the MIF would be used to make "high-impact and profitable" investments, including the infrastructure projects under the "Build Better More" program.
"The gains from the Fund shall be reinvested into the country's economic well-being," Marcos said, reiterating that the MIF would be run by "a group of internationally recognized economic managers."
Legislative agenda
Marcos urged Congress to pass his administration's priority legislative measures, among them essential tax measures under our Medium-Term Fiscal Framework, like the proposed excise tax on single-use plastics; proposed value added tax on digital services; planned rationalization of mining fiscal regime; proposed motor vehicle user's charge/road user's tax; and proposed reforms to military and uniformed personnel's pension fund.
Marcos also called for the passage of the proposed amendments to the Fisheries Code, Anti-Agricultural Smuggling Act, and Cooperative Code.
He likewise asked Congress to pass the proposed New Government Procurement, New Government Auditing Code, anti-financial accounts scamming, Tatak Pinoy (Proudly Filipino), Blue Economy, ease in paying taxes, institutionalization of the automatic income classification of local government units, and Philippine Immigration Act.
"So, the initial results of our efforts inspire confidence. Let us continue to be relentless in our aspiration of peace and progress. This has not been the work of a single person. Neither a single branch of government, nor even the whole government acting alone," Marcos said.
"This is the collective synergy achieved by all Filipinos working together. It took a whole-of-nation effort to achieve this immediate recovery from our pandemic slump. Unity was what made us rise once more," he added. (PNA)