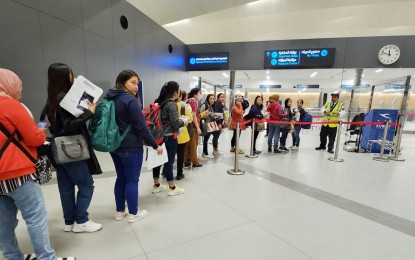 MANILA – As the country experiences a rise in overseas Filipino workers (OFWs) deployment due to the reopening of the world economy, President Ferdinand R. Marcos Jr. has assured that his administration will push for fair employment and safe migration among others, especially in forging bilateral labor relations with other countries.
"Our priority is to ensure that the principles of ethical recruitment, fair employment, and the safe and orderly migration of our people, are embodied in our agreements with other countries," Marcos said during his second State of the Nation Address (SONA) on Monday.
"We are engaging with our partners in the international community to ensure a safe working environment for our countrymen. As we do so, we are also putting in place responsive mechanisms for the social welfare, repatriation, and reintegration of our returning OFWs into the Philippine economy," he added.
The President said that several countries have already signified interest in exploring bilateral labor cooperation with the Philippines in various areas that include healthcare, tourism, hospitality, engineering, construction, and information technology.
Marcos said the Philippines recently signed agreements with Singapore, Austria, and the province of Alberta in Canada.
Earlier, Department of Migrant Workers (DMW) Secretary Susan Ople said the department is in talks with several other European countries which have expressed interest in hiring more Filipino skilled workers.
In 2022, the number of OFWs has increased by 62 percent.
The Marcos administration acknowledges the vital contribution of OFWs to the economy of the country.
"OFWs continue to send in historically high remittances, solidifying their role in our transformative economic growth. In 2022, our OFWs contributed USD32.5 billion, or roughly PHP1.8 trillion, to our economy," he said.
Because of this, Marcos said it is right for the government to look after their safety and welfare, and ensure prompt assistance to OFWs when needed.
Among those resolved under the Marcos administration include the deployment issue in the Kingdom of Saudi Arabia, and currently, he said that about 70,000 OFWs have already been deployed to KSA for employment.
Meanwhile, the government continues to address the issue of unpaid salaries and other related claims of some 14,000 OFWs who have been put out of work in Saudi Arabia during the pandemic.
The President said the unpaid salaries of these former Saudi Arabia claimants are now being processed.
"The Crown Prince of the Kingdom of Saudi Arabia himself personally committed to me that the unpaid claims of Filipino workers would be paid," Marcos noted.
He added that the continued employment of some 50,000 workers and the deployment of many more Filipino seafarers aboard EU vessels, has also been assured.
"The lesson for us all is that our education and skills must always be attuned to the high, exacting, and constantly evolving global standards," he said.
Marcos remains hopeful that one day, foreign employment for Filipinos will just be driven by choice, and not because of necessity, as working abroad requires great sacrifice from the OFW, and their families and communities as well. (PNA)