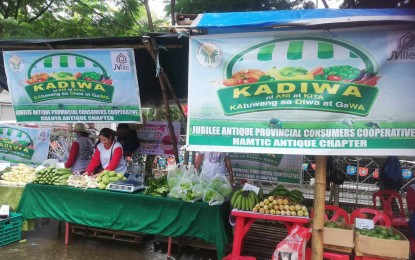 SAN JOSE DE BUENAVISTA, Antique – The expansion of Kadiwa stores in the country mentioned by President Ferdinand R. Marcos Jr. in his State of the Nation Address (SONA) on Monday is a welcome development for the Jubilee Antique Provincial Consumers Cooperative (JAPCC), which has about 400 members in the province.
JAPCC general manager, Israel de Guzman, in an interview, said he felt energized when the President spoke of his support for the Kadiwa.
The cooperative was instrumental in establishing 24 Kadiwa stores in Antique.
"We feel energized and assured with the President's continuing support to the Kadiwa stores," de Guzman said.
Through their Kadiwa stores, rice and other basic commodities in the province are sold at reduced prices.
The Kadiwa stores sell the PBBM rice at PHP20 per kg., provided the consumer buys PHP150 worth of vegetables.
Vegetables and other agricultural products are sold at 20 percent to 50 percent cheaper than the regular price in the market if the consumer prefers not to buy rice.
Meanwhile, Antique Provincial Board Member Alfie Jay Niquia, who chairs the Provincial Board Committee on Education, said the province appreciates the pronouncement of President Marcos to build more classrooms and hire additional teachers and staff.
"Our province really lacks classrooms, that is why there are still classes being held under the tree," Niquia said.
The free education for the tertiary level, he said, is also helpful to students who could not afford to go to the cities for their college education.
"Students are now able to pursue education because of the free tertiary education at the University of Antique, the only state university in the province," he said.
Schools Division of Antique Education Facilities Section Engineer III Rex Gallero said in a separate interview that 10 classrooms that are being built in four schools in Antique are about to be completed while the construction of 12 additional classrooms starts next month.
"The construction of new classrooms is really a big help for the learners," Gallero said. (PNA)