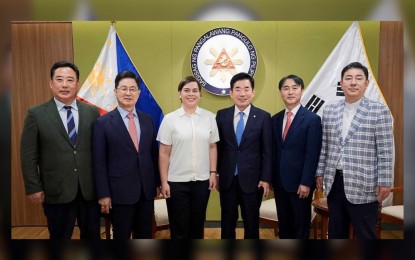 MANILA – Both the Office of the Vice President (OVP) and the Philippine Senate welcomed on Tuesday visiting officials and members of the National Assembly of the Republic of Korea to celebrate the 74 years of friendship between the two nations.
During their courtesy call on Vice President Sara Duterte, National Assembly of the Republic of Korea Speaker Kim Jin-Pyo paid tribute to the bravery of the thousands of Filipino soldiers who fought during the Korean War and the important role of Filipinos in the history of Korea.
"During the darkest hours during the Korean War, the Philippines sent over 7,400 young and brave soldiers to fight for our freedom and democracy. We deeply appreciate and remain truly grateful to the Philippines' support," Kim said.
"With that foundation, I think we were able to build a really strong relations over the past seven decades, and I think our relationship is ready to be elevated to a strategic partnership," Kim said.
During the Korean War from 1950 to 1953, the Philippines deployed five Battalion Combat Teams or 7,420 soldiers called the Philippine Expeditionary Force to Korea under the United Nations Command.
The Republic of Korea, according to Kim, is always ready to help the Philippines in advancing its manufacturing and mining sectors by developing the country's energy distribution systems.
"The Philippines is an archipelago made out of more than 7,000 islands, that is why it is important for these islands to be able to produce their own electricity, assuming we would be given the chance to promote cooperation in these energy generation sector," Kim said.
Vice President Sara Duterte thanked the Republic of Korea for its help and commitment to support the country's energy sector.
Attending the regular session of the Senate in the afternoon, Kim and other members of the National Assembly of the Republic of Korea were also welcomed by senators led by Senate President Juan Miguel Zubiri.
"We'd like to inform that this year marks the 74th anniversary of diplomatic ties and bilateral cooperation between our two countries, Philippines and the great Republic of Korea. After more than seven decades of relations which remains strong and robust in the areas of development and infrastructure, trade and investments, defense cooperation, as well as in the creative industries, and people-to-people exchanges.
He also noted that the Senate is very close to approving the Philippines' strategic alliance with the Republic of Korea both in defense and in trade.
The Senate Committee on Foreign Relations chaired by Senator Imee Marcos discussed last May with the Department of Foreign Affairs and other concerned agencies the social security agreement (SSA) between the two countries.
The Philippines-Republic of Korea SSA is expected to activate and operationalize, on the part of the Philippines, the constitutional duty of the State "to afford full protection to labor, whether local or overseas" that is being eyed to benefit around 62,000 Filipinos. (PNA)