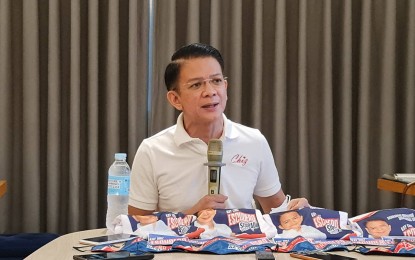 MANILA – Senator Francis Escudero has vowed to support the passage of a new procurement law and auditing codes that would help facilitate decentralization and devolution processes that will further empower local government units (LGUs).
In a statement on Tuesday, Escudero said both measures should be prioritized as LGUs prepare for full devolution as envisioned under Republic Act 7160 or the Local Government Code of 1991, as well as the Supreme Court ruling on the Mandanas-Garcia petitions.
"Amending our old laws on government procurement and the audit process are very timely as LGUs prepare for full devolution. When I was governor, I experienced how tedious the processes were and most of the time, they really impede local governance and hamper the delivery of services to our people," he said.
President Ferdinand R. Marcos Jr., in his second State of the Nation Address (SONA), said the passage of the two measures will make government procurement and auditing "more attuned to these changing times" as it prepares for the decentralization and full devolution to LGUs as mandated by the SC Ruling on the Mandanas-Garcia petitions.
The High Court decision gives LGUs a just share of all national taxes collected, and not only from the Bureau of Internal Revenue (BIR), and fully transfers or devolves the delivery of basic services to LGUs.
"We will give effect to the mandate of the Constitution and the Local Government Code, as clarified by the Supreme Court very soon. Almost all the required Devolution Transition Plans of the LGUs are done. To fully prepare them for optimal devolution, the necessary technical and financial assistance is being extended to our local governments," the Chief Executive said.
The Government Auditing Code of the Philippines, or Presidential Decree No. 1445, was put in place on June 11, 1978 while the Government Procurement Reform Act or Republic Act No. 9184 was approved on January 10, 2003.
Aside from the two measures, Escudero also vowed to support other legislative measures pushed by the President if these will have a greater impact on the lives of ordinary Filipinos and hasten the country's recovery from the effects of the Covid-19 pandemic.
"I am looking forward to be working again with my colleagues to secure the passage of many important legislation under the Legislative-Executive Common Legislative Agenda (CLA), as well as pushing for the bills under the Committee on Higher, Technical and Vocational Education that I chair," he said.
Meanwhile, Escudero cited the President's giving priority to, among others, the passage of the Anti-Agricultural Smuggling Act, the granting of amnesty to rebel returnees, and the updating of the Immigration Act of the Philippines, of which he is the principal author in the Senate.
Last year, the senator filed SB 291, which proposed the amendments to the country's 83-year-old law. It is still pending before the Senate Committee on Justice and Human Rights since the bill's first reading in August 2022.
Under SB 291, Escudero proposes the creation of a Commission on Immigration and phases out the existing Bureau of Immigration to modernize the country's immigration processes. (With a report from Leonel Abasola/PNA)