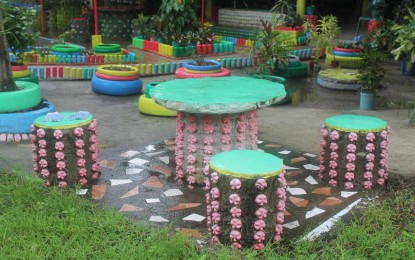 SAN JOSE DE BUENAVISTA, Antique – Regulating single-use plastic products has helped reduced solid wastes generated by the municipality of Patnongon in Antique from 586 tons annually to 350 tons.
"When our open dumpsite in Patnongon was closed in 2017, we had to take initiatives on how to handle the bulk of wastes in our town having nowhere to put it," said Patnongon Municipal Environment and Natural Resources Officer (MENRO) Noel Salvan, a Civil Service Commission PAG-ASA 2023 Awardee on environmental protection in Western Visayas, in an interview on Wednesday.
Salvan lobbied for an ordinance regulating the single-use plastic, commonly used by vendors in their public market, especially in the fish and meat sections, and passed by the local council of Patnongon on November 2018.
He said that before the enactment of the ordinance, 25 percent of the waste generated consisted of single-use plastic.
The local legislation prohibited even the use of plastic straws and other plastic products in restaurants in Patnongon.
Violators were fined ranging from PHP500 for the first offense, PHP1,000 for the second violation and PHP2,500 for the third offense.
"During the first year of implementation, there was a strong resistance from the people about the ordinance," Salvan said.
He said that the residents eventually cooperated after seeing the result of the ordinance, which reduced their generated waste and made their town's public places clean.
"Our waste generation in the municipality is even getting lower with most of the collected wastes now being biodegradable, such as the leaves from trimmed plants," Salvan said.
Salvan said they have two compactors that collect garbage from establishments and households in Patnongon daily.
The collected garbage is transported to their established eco-park in Barangay Poblacion, where pet bottles and other residual wastes are crushed and made into eco-brick, benches and flower pots.
The 1.5 hectares eco-park, another initiative of Salvan, is now a site for educational tours of other LGUs in the province and other adjacent provinces wanting to learn how to manage their wastes.
"Every time we have visitors, they also make it a point to visit the eco-park," Salvan said. (PNA)