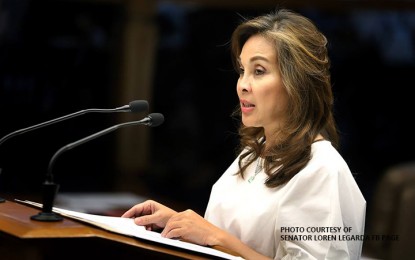 MANILA - The Original Pilipino Music (OPM) is an integral part of preserving Filipinos' cultural identity and heritage, Senate Pro Tempore Loren Legarda said on Thursday.
"OPM is a fun way to reconnect with the Filipinos' psyche – it helps us advance Filipino arts and culture and promote our impressive work to the world," Legarda said in commemoration of the Linggo ng Musikang Pilipino this week.
"Filipinos are known all over the world for their exemplary musical skills. The propagation of OPM is another way of letting everybody else know how we are as a people," she added.
The Linggo ng Musikang Pilipino was established under Proclamation No. 933, s. 2014 to achieve the long-term goal of reviving OPM.
It is also seen as a way to advance Filipino art and culture and contribute to the development of the economy through employment and revenue streams to various industries.
Senate Bill 1841 or the bill amending Republic Act No. 10066, also known as the National Cultural Heritage Act, was filed by Legarda in seeking to enhance the preservation of the Philippines' cultural assets.
The measure mandates local government units to conduct a cultural heritage mapping of their areas for both tangible and intangible, and natural and built heritage.
The Department of Education shall also formulate cultural heritage education programs both for local and overseas Filipinos to be incorporated into formal, alternative, and informal education, with emphasis on the protection, conservation, and preservation of cultural heritage property.
"With the establishment of the Cultural Education Program, we can help promote not only mainstream OPM but to help preserve the indigenous music various ethnic groups in the Philippines have been creating for hundreds of years," Legarda said. (PNA)