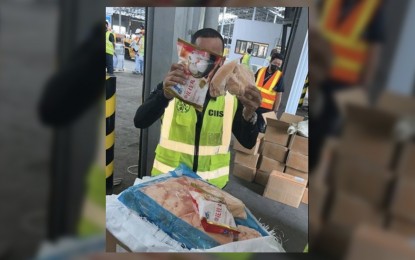 MANILA – The Bureau of Customs (BOC) on Thursday vowed to bolster proactive measures to combat agricultural smuggling.
This came after President Ferdinand R. Marcos Jr. resounded his warning against agricultural smugglers and hoarders during his second State of the Nation Address (SONA).
In a statement, the BOC assured to maintain close coordination with other government agencies to curb illicit activities which are considered economic sabotage.
"We will enhance both pre-arrival and post-arrival technical targeting and fraud detection mechanisms for imported goods. Investing in additional equipment and providing capacity building for our personnel that will further strengthen our intelligence and enforcement capabilities," the BOC statement read.
Included in the bureau's proactive measures is its commitment to supporting prosecution to run after smugglers.
"Through DOJ (Department of Justice), we will strive to increase the conviction rate of smugglers, serving as a deterrent to others involved in such illicit activities," it added.
The BOC also promised to hold erring customs personnel liable to maintain internal accountability and integrity.
"A total of seven show cause orders have been issued against erring BOC personnel, while 66 BOC personnel are currently undergoing investigation by the Customs Intelligence and Investigation Service (CIIS)," it said.
The said figure accounts for detected erring personnel from Jan. 1 to July 25 alone.
Besides these, intelligence sharing, collaboration, and joint operations shall be continuously conducted with both local and international enforcement agencies, according to BOC.
As of July 25, the BOC has already conducted 654 anti-smuggling operations that resulted in the seizure of PHP30.1 billion worth of smuggled products, of which PHP2.9 billion accounts for agricultural goods.
It also revoked the accreditation of 95 importers and 36 custom brokers due to violation or non-compliance with customs regulations.
To date, there are over 7,733 importers and 1,263 customs brokers that were granted accreditation since Jan. 1.
The Marcos administration has vowed to implement stringent measures against agricultural smuggling through interagency collaboration.
The President, who is also the concurrent chief of the Department of Agriculture, noted that combatting smuggling is crucial to achieving the administration's targets in terms of food security, food affordability and increasing food production in the country. (PNA)