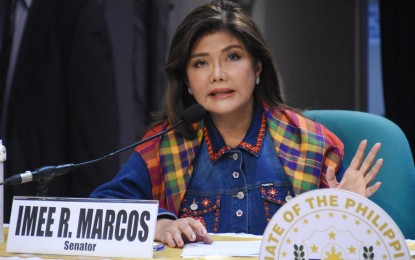 MANILA – Patience is still the key to resolve the issues surrounding the West Philippine Sea (WPS), Sen. Imee Marcos said Thursday.
During the Kapihan sa Senado on Thursday, Marcos said the Philippines should exercise utmost restraint, tolerance and prudence, and at the same time open as many lines of communications as possible and explore all available options.
"Kinakailangan ng (We need a) very pragmatic and prudent approach. As a result, it is a work in progress and perhaps, that's what the President (Ferdinad R. Marcos Jr.) had in mind, that we all calm down, de-escalate tensions in the West Philippine Sea and in the Taiwan Strait, not constantly talk about it and bark on the hopeless word war," she told Senate reporters.
"Ang sabi nung iba (Others say) let's stop poking the panda. Napipikon tayo at pikon na pikon na din sila. Anong gagawin natin? Magkakapikunan tayo, magi-initan ng ulo? Eh, saan mauuwi yan (We are both losing our tempers. What shall we do, be disgruntled with each other? Where would it lead)?) I think terrible, dangerous mistakes will be made if we carry on like this," Marcos said.
The chairperson of the Senate Committee on Foreign Relations clarified that she is not against the proposed Senate Resolution 659, but however noted that the Philippines already holds the Arbitral Ruling, and also has no assurance of securing the votes in the United Nations General Assembly (UNGA) considering that other ASEAN (Association of Southeast Asian Countries) member states have their own claims in WPS.
"In my opinion, firstly as some senators and congressmen have mentioned, we already have in hand the Arbitral Judgement which is far more powerful and important. Furthermore, I also worry that we may not generate the votes necessary. Ang laking kahihiyan kapag natalo pa tayo sa (It will be a big shame if we are to lose in the) General Assembly," she said.
Filed by Senate Deputy Minority Leader Risa Hontiveros, Senate Resolution 659 urges the national government, through the Department of Foreign Affairs, to sponsor a resolution before the UNGA calling on China to stop its harassment of Philippine vessels within the WPS.
However, its adoption by the Senate in the plenary was deferred on Wednesday after senators agree that it should be discussed further in a closed-door caucus on Monday.
Align with PBBM strategy on WPS
Meanwhile, Senator Alan Peter Cayetano maintained his stand on Senate Resolution 659, which is for the senators to put the measure on hold until they are able to align the information they have with the existing strategy of President Ferdinand R. Marcos Jr. in the WPS.
In an interview with reporters after the Handa Pilipinas innovations exposition of the Department of Science and Technology, the lawmaker clarified that he did not prevent colleagues from approving the measure in the Senate plenary altogether on Wednesday, but rather urged them to conduct in-depth committee hearings first so as not to preempt the plans of the President on WPS.
"Ang sinabi ko kahapon, bakit natin ito ipapasa, malinaw sa Supreme Court na ang nagde-decide ng strategy sa foreign affairs ay Presidente, at malinaw na hindi pa natin pinapakinggan [ang strategy niya] (What I said yesterday was, why should we pass [SRN 659], it is clear from the Supreme Court that the one who decides the strategy for foreign affairs is the President, and it is also clear that we have not heard yet [his strategy]," he said.
"Ni hindi natin alam kung gusto ng Malacañang na mag-file sa UNGA. Ni hindi natin alam kung gusto ng DFA (We don't even know if Malacañang wants to file in the UNGA. We also don't know if the DFA wants it)," the former Foreign Affairs Secretary said.
On the other hand, Cayetano said if Marcos would turn out to have chosen to take a multilateral approach, Cayetano said the Association of Southeast Asian Nations (ASEAN) might be a better platform for the Philippines than the UNGA.
"Hindi po usapan dito kung gusto nating lumaban. Ang question dito, ano ang effective na laban (The point here is not that if we want to fight. The question here is that what is the effective way to fight)," he noted.
"I'm not anti-anyone. I'm pro-Philippines. Ang Pilipinas ay dapat sa Pilipinas (The Philippines is supposed to be for the Philippines," he added. (PNA)