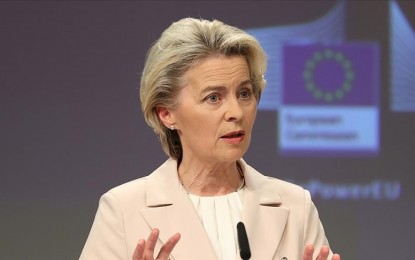 MANILA – European Commission President Ursula von der Leyen will visit the Philippines from July 31 to Aug. 1, Malacañang announced on Thursday.
Von der Leyen's visit will be the first of a European Commission president in the nearly 60 years of diplomatic ties between the Philippines and the European Union (EU), according to the Facebook post of the Presidential Communications Office (PCO).
"President Ferdinand R. Marcos Jr. is pleased to welcome the upcoming official visit of European Commission President Ursula von der Leyen from 30 July to 01 August 2023," the PCO said.
Marcos and Von der Leyen first met during the Association of Southeast Asian Nations (ASEAN)-EU Commemorative Summit in Brussels on Dec. 17, 2022.
"Philippines-EU bilateral relations have enjoyed a strong positive momentum over the past year," the PCO said.
"President von der Leyen's visit is hoped to bring the Philippines and the EU even closer, as both countries step up cooperation activities in trade, economic cooperation, development cooperation, maritime cooperation, climate and environment, space cooperation, digital connectivity, among other sectors," it added.
In a separate statement, the EU Delegation in Manila said the visit aims to give a new impetus to the EU-Philippines bilateral relations.
Von der Leyen's meeting with Marcos is expected to cover among other issues, trade, investment and Global Gateway cooperation.
The EU's Global Gateway Strategy aims to address partner countries' infrastructure needs while fighting climate change, improving health systems and boosting competitiveness and security of global supply chains.
Von der Leyen, the PCO said, is expected to meet with other Philippine government officials, as well as private business and civic entities.
Von der Leyen will also speak at a high-level business event organized by the European Chamber of Commerce of the Philippines in partnership with the Makati Business Club. 
Von der Leyen's scheduled visit to Manila comes amid the Marcos administration's call for the resumption of talks on the free trade agreement (FTA) between the Philippines and the EU.
Earlier this month, Trade Secretary Alfredo Pascual said the two parties would schedule a discussion this year on the scope of the possible FTA.
The EU and the Philippines in 2013 launched exploratory talks for an FTA, with two negotiations done until 2017. FTA discussions between the two parties have been on hiatus for six years. (PNA)