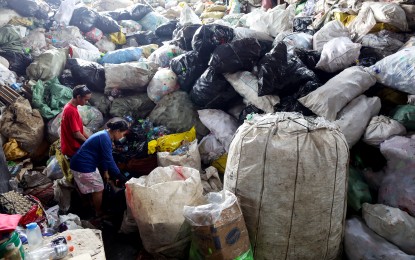 MANILA – Department of Environment and Natural Resources (DENR) Secretary Antonia Loyzaga said the informal sector who helps in the country's solid waste management effort must be protected and their contribution valued.
"There is a whole group of informal sector participants in the solid waste management activities of our country. These individuals, these families, many of them live for generations beside the large landfills that we know. They need to be given a fair wage, they need to be valued for their contribution to the solid waste management effort of this country," Loyzaga said during the post-State of the Nation Address (SONA) discussions at the Hilton Hotel Manila in Pasay City on Wednesday afternoon.
Loyzaga said the private sector's responsibility in the government's solid waste management effort is very important, as it is a multi-stakeholder, whole-of-government, whole-of-society endeavor to address plastic waste.
She said Republic Act 11898, also known as the Extended Producer Responsibility (EPR) Act of 2022, requires large-scale companies to establish a mechanism for recovering their plastic packaging.
Loyzaga noted that under the EPR, all producers using plastic packaging are required to collect their packaging at 20 percent a year until they reach 80 percent collection, making them accountable and responsible for the recycling and the reduction of their plastic packaging.
However, she said at the end of the day, these companies as well as the government, will not be able to collect all the plastic packaging and dispose of them adequately as plastic does not degrade.
"Here's where we need to also at this point, begin to think of who are involved in the solid waste management sector and make that an industry in itself," she added.
This means, Loyzaga said, that the informal sector contributing to the whole solid waste management effort should "be given social protection; they need the just pay that they actually should receive, and they need occupational hazard and safety training in order for them to actually be more protected against the hazards of this actual profession". (PNA)