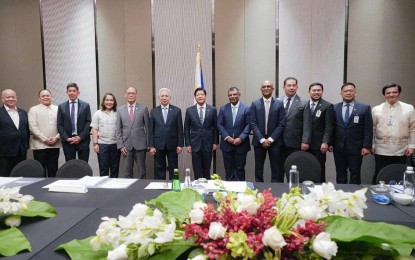 MANILA – The Philippines is continuously reaping the benefits of the three-day state visit of President Ferdinand R. Marcos Jr. to Malaysia after AirAsia's Tan Sri Anthony Francis Fernandes pledged to invest USD1 billion for the expansion of their operations in the Philippines.
In a roundtable meeting organized by the Department of Trade and Industry (DTI) during the state visit, President Marcos said he is glad that AirAsia has big prospects for the Philippines, according to a news release by the Presidential Communications Office on Friday.
"Thank you. We're all very happy that you have such good -- you see such good prospects for the Philippines," Marcos said.
DTI Secretary Alfredo Pascual said Fernandes, chief executive officer of Capital A Berhad (formerly AirAsia Group), signed a letter of intent indicating expansion plans in the Philippines, specifically for aviation and aviation maintenance, repair and overhaul operations, Air Asia super app and logistics operations.
Fernandes said their company was also hurt when the coronavirus disease 2019 (Covid-19) pandemic hit the Philippines, but emphasized that they have to bounce back and restructure their businesses to get back to the pre-pandemic levels.
"We're excited about what we can do in the Philippines and really stimulate small, medium enterprises … we are excited. We think we can bring a lot of value to the Philippines on logistics," Fernandes told President Marcos during the roundtable meeting.
"So, over the next few years, we think we'll invest about one billion US dollars into the Philippines. We have about 300 million so far. We wanna grow our aircraft from 23 to 50, including wide-body aircraft … we are just applying for the license now," he added.
Fernandes said it has always been a pleasure doing business in the Philippines as he reiterated his commitment to the administration. (PND)