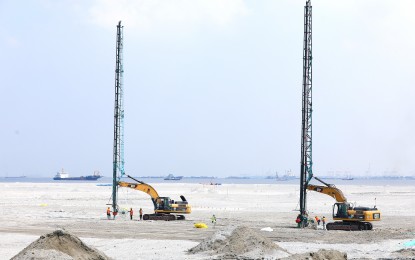 MANILA – The United States Embassy in Manila raised concerns over the possible environmental impact and the "ties" of a Chinese firm to the ongoing Manila Bay reclamation projects in the capital.
In a statement sent to reporters Wednesday, the US Embassy in Manila said they are concerned that the projects have ties to the China Communications Construction Co. (CCCC) "which has been added to the US Department of Commerce's Entity List for its role in helping the Chinese military construct and militarize artificial islands in the South China Sea".
US Embassy spokesperson Kanishka Gangopadhyay said the company "has also been cited by the World Bank and the Asian Development Bank for engaging in fraudulent business practices".
He said the US Embassy is in regular discussions with the Philippine government regarding the reclamation, including how it could potentially bring "negative long-term and irreversible impacts to the environment, the resilience to natural hazards of Manila and nearby areas, and to commerce".
"We continue to support high quality, sustainable, and transparent investments to benefit the Filipino people and will continue to engage with the appropriate authorities on this matter," he said.
In its official website, CCCC said its subsidiary China Harbour Engineering Company Ltd. is currently undertaking the reclamation development project at Manila Bay in Pasay City, about five kilometers from downtown Manila and Ninoy Aquino International Airport.
The main construction of the project includes backfilling to form three artificial islands and related supporting revetment structures, and foundation treatment.
The amount of backfilling is about 97.11 million cubic meters, and the amount of the dredging is about 15 million cubic meters. (PNA)