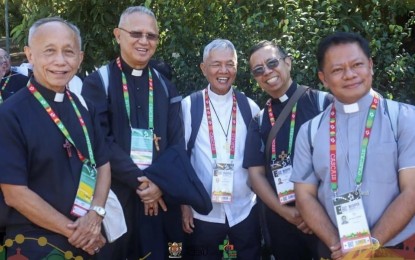 MANILA – A senior Catholic prelate urged Filipinos to pray for the participants of the 2023 World Youth Day (WYD) which kicked off in Lisbon, Portugal on Tuesday.
In his message posted on the Catholic Bishops' Conference of the Philippines (CBCP) news website Wednesday, Cebu Archbishop Jose Palma asked the people to pray that the attendees' experience would deepen their faith.
"I feel privileged to be with many people especially with the young who are hopeful that this coming together we also deepen their faith and make them realize that faith, really, is an important gift from the lord," said the archbishop, who is one of the seven Filipino bishops attending the religious event.
"And so, my hope and prayers are, join us in asking God, strengthening of the faith, for believing that despite many concerns the grace of God is sufficient," Palma added.
Aside from the Cebu prelate, other Philippine bishops attending the WYD are Bacolod Bishop Patricio Buzon; Iba, Zambales Bishop Bartolome Santos Jr.; Dipolog Bishop Severo Caérmare; Emeritus Cagayan de Oro Archbishop Antonio Ledesma; Emeritus Novaliches Bishop Antonio Tobias and Daet, Camarines Sur Bishop Rex Alarcon, who is also the chairman of the Episcopal Commission on Youth (ECY) of CBCP.
Citing the WYD organizers, CBCP News also reported that this year's gathering recorded the most number of nationalities.
Jorge Messias, head of the WYD logistics department, said all countries are attending the week-long event except Maldives.
He said at least 354,000 registered pilgrims showed up on the first day.
Spain has the highest delegates of over 77,000; followed by Italy with 59,469 participants; the host nation Portugal with 43,742; France with 42,482; and the United States with 19,196.
There are close to 25,000 volunteers from across the world, which include over 100 Filipinos.
Organizers added that there are about 688 bishops who registered for the event, of which 30 of them are cardinals.
Pope Francis is expected to arrive in Lisbon on Wednesday morning.
In the afternoon, the Holy Father is set to pray with a group of bishops, priests, deacons, consecrated men and women, seminarians and pastoral workers at Jerónimos Monastery.
The official welcoming ceremony for WYD with the pontiff is on Thursday to be held at Eduardo VII Park. (PNA)