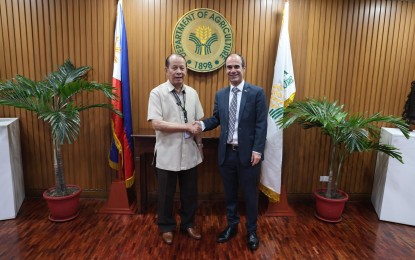 MANILA – The Philippine government, through the Department of Agriculture (DA), is partnering with the government of Israel to further strengthen the country's agricultural sector.
This came following a meeting between Senior Undersecretary Domingo Panganiban and Israel Ambassador to Manila Ilan Fluss on July 31 where they discussed collaborative projects in agriculture, the DA said in a news release Wednesday.
Among the topics discussed was the status of the proposed Philippines and Israel Cooperative Learning and Linkages in Agriculture through Bilateral Agreement (PH-IL CoLLAB) to be implemented with the DA-Agricultural Training Institute (ATI) and the Technical Education and Skills Development Authority (TESDA).
The PH-IL CoLLAB is aligned with the two countries' goal of strengthening their cooperation and improving agricultural partnerships through training, internship, professional exchange and monitoring and evaluation.
The meeting also discussed the market access of Philippine fresh pineapples and mangoes, the importation of Hass avocado planting materials, technical cooperation on enhancing local laboratories and the development of a large-scale dairy farm using Israeli technology.
Likewise, the parties agreed that an integrated annual work plan for the DA and the Israeli government will be prepared for better coordination on the countries' priority projects.
On the other hand, Fluss invited Panganiban and other DA officials to join Agritech 2023, which is the largest agricultural technology event in Israel.
The event which would be held in October will showcase the latest agricultural, water, and food technologies and solutions from leading companies in the world.
At the same time, the embassy expressed its intention to organize a Learning Exchange on Agricultural Research seminar on Aug. 30 during the visit to the Philippines of Prof. Uri Yermiyahu from the Agricultural Research Organization.
Also present during the meeting are DA Assistant Secretary for Operations Arnel de Mesa and National Dairy Authority administrator Gabriel Lagamayo. (PNA)