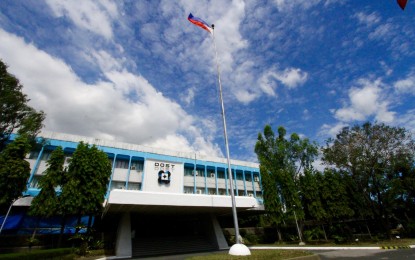 MANILA – Department of Science and Technology (DOST) Secretary Renato Solidum Jr. on Wednesday highlighted the importance of satellite broadband connectivity not just on government operations but also in providing connectivity in areas not catered by telecommunication firms.
In an interview by the Philippine News Agency, Solidum explained that "satellite broadband connectivity for communication is very critical in providing internet connectivity in remote areas that are not reached by telecommunications companies."
"This is also important in the monitoring systems of DOST through PAGASA (Philippine Atmospheric, Geophysical and Astronomical Services Administration) and Phivolcs (Philippine Institute of Volcanology and Seismology) which extensively use VSAT (very-small-aperture terminal) communication," he said.
Solidum is among the officials present when President Ferdinand R. Marcos Jr. met with officials of Singapore-based Kacific Broadband Satellite Ltd. in Malacañang on Tuesday.
During the meeting, Kacific executives discussed the upcoming launch of its second satellite project, the Kacific2, which seeks to further provide affordable and reliable internet service to the public. It could also enable government-to-government communications from specific central offices to remote constituents and also support the existing government initiatives that promote better internet connectivity such as the Free WiFi for All Program, the National Broadband Plan and the eGOV PH super app.
Marcos noted the need for the country to catch up with its Asian neighbors in terms of connectivity.
"We have to keep up. We are always looking for additional capability when it comes to all this communications especially with the problems of cyber security," he said.
The President has instructed Solidum and Department of Information and Communications Technology (DICT) Secretary Ivan Uy to continue with the talks with Kacific to determine the specific terms on how the company can boost the country's digital capability.
"The DOST will continue discussions with Kacific to explore the use of their satellite for communication in our monitoring operations to ensure continuity in service," Solidum said.
He clarified that it is the DICT that is mandated to facilitate connectivity in communities.
"As we expand our monitoring stations, the availability of additional satellite communication provider will ensure better continuity of service, especially during times of disasters," he said.
It can be recalled that in 2021, the government put in place the Introducing Non-Geostationary Satellite Constellations Test Deployment to Improve Internet Services (Incentivise) project, which calls for new Satellite Internet Operators (SIOs) to conduct test deployments in select remote sites.
The project supports Executive Order (EO) 127 (Expanding the Provision of Internet Services through Inclusive Access to Satellite Services) by introducing additional options for satellite communications to the local market and fostering competition.
In a separate interview, DOST Undersecretary Leah Buendia said the agency has always been supportive of technologies that could address the digital divide. (PNA)