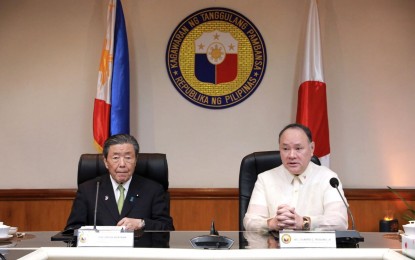 MANILA – Department of National Defense (DND) Secretary Gilberto Teodoro Jr. has reiterated the importance of rules-based international order and the need to instill the United Nations Convention on the Law of the Sea (UNCLOS) as an archipelagic doctrine.
The defense chief issued this statement following Wednesday's courtesy call of the Japan-Philippines Parliamentary Friendship League (JPPFL) headed by its chair Moriyama Hiroshi.
The JPPFL delegation was also joined by participants from Japan's Ministry of Foreign Affairs, and the Embassy of Japan in the Philippines.
"In response to the support given by Japan for the 7th anniversary of the arbitral award, Secretary Teodoro emphasized the importance of a rules-based international order, and instill the UNCLOS as an archipelagic doctrine," DND spokesperson Arsenio Andolong said in a statement Thursday.
Citing President Ferdinand R. Marcos Jr.'s state visit to Japan last February, both sides highlighted the two countries' multi-faceted strategic partnership and reaffirmed their commitment to explore several areas of convergence in the spirit of economic development, disaster resilience, and regional peace and stability.
"Through deepening trilateral cooperation and placing premium on the role of multilateralism, Secretary Teodoro advocated for a fair and just international system wherein the supremacy of international law provides a mechanism for small countries like the Philippines to have a voice against expansionism for the survival of future generations," Andolong said.
He added that the defense chief also expressed his appreciation for Japan's continued support in enhancing the Philippines' situational awareness in the maritime domain as well as assisting in the development of humanitarian assistance and disaster response capabilities through civil defense.
"Relatedly, Secretary Teodoro looked forward to Japan's further support to the Philippines' self-reliant defense posture in a sustainable and viable manner, particularly in cross-border investment, project execution, and process management," Andolong stressed. The Philippines was among the recipients of Japan's Official Security Assistance (OSA).
The OSA is Japan's newly launched grant aid scheme relative to its new National Security Strategy, released last December 2022, for bolstering the transfer of defense equipment and technology. (PNA)