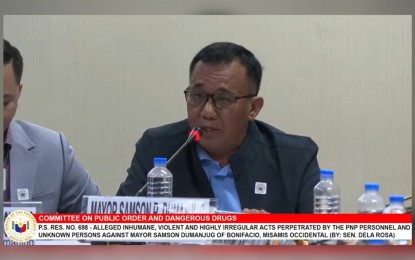 MANILA – The Department of the Interior and Local Government (DILG) on Thursday recognized the suspension order imposed by the Misamis Occidental provincial board against Bonifacio town Mayor Samson Dumanjug.
The DILG, citing Administrative Order 22, series of 2011, said the suspension order of the Sangguniang Panlalawigan (Provincial Board) should be appealed to the Office of the President (OP) within 15 days from the notice of the order.
"However, Mayor Dumanjug did not file an appeal. The 2023 Suspension Order against Mayor Dumanjug thus became final and executory. Further, there was no stay of execution issued by any proper office or court. In recognizing the Suspension Order, the DILG complied with and followed the law," the agency said in a statement.
On Tuesday, Misamis Occidental Gov. Henry Oaminal appeared before the Senate Committee on Public Order and Dangerous Drugs for the hearing into the matter called by its chairman, Sen. Ronald dela Rosa.
Dela Rosa, in calling for the probe, cited the letter complaint of the Dumanjug couple that local police officers and local government executives subjected them to alleged inhumane and violent treatment when they were evicted from the municipal hall building last June 16.
Oaminal said law enforcement agents were compelled to use force in enforcing the suspension order on Dumanjug and his wife, Vice Mayor Evelyn Dumajug, to resume the delivery of basic services to their constituents.
Oaminal told senators that the Dumanjugs have locked themselves in the mayor's office since May 30 after he directed the service of the preventive suspension order issued by the provincial board in relation to Administrative Case No. 01-23 or a case of betrayal of public trust against the couple.
On June 7, Oaminal said the DILG Region 10 issued a memorandum recognizing Ricky Bulahan as the acting municipal mayor of Bonifacio town. This was supported by a letter dated June 9, 2023, coming from the DILG Central Office in Quezon City.
The case stemmed from an administrative complaint filed against the Dumanjug couple in September 2022 for abuse of authority, dishonesty and grave misconduct for the procurement of excavators and garbage compactor trucks which were allegedly overpriced. (PNA)