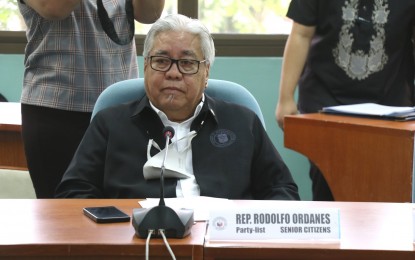 MANILA – The House Committee on Senior Citizens will look into the compliance levels with the mandated discounts for online purchases of senior citizens (SCs) and persons with disabilities (PWDs), its chairperson said on Thursday.
In a statement, Senior Citizen Party-list Rep. Rodolfo Ordanes Jr. said his panel would invite government agencies and firms providing e-commerce platforms and mobile applications to attend their hearings to determine the implementation status of the mandatory discounts given to senior citizens and PWDs in online transactions.
"It is necessary to find out the compliance levels for both online transactions and real-world sales, so we can find ways to plug loopholes encountered during implementation," Ordanes said.
Ordanes noted that current compliance levels are "not where they should be" because some apps do not meet the 20 percent discount based on the purchase of the seniors.
"Some discount vouchers being given do not go up to 20 percent. Some are at 60 pesos only. Worse, some online sellers and platforms are not giving the discounts at all," he said.
Ordanes said there should be a verification process for mobile applications or e-commerce platforms to verify the identification card number of the senior citizen of PWD.
"For online transactions, there should be a quick way for the mobile apps or platforms to verify the PWD identification… numbers presented before delivery riders are dispatched to the location of the persons who placed orders. This is the crucial part which requires compliance with the Know Your Customer rules and interface with a database of verified PWD numbers and IDs," Ordanes said.
Bureau of Internal Revenue (BIR) Commissioner Romeo Lumagui Jr. has reiterated in a statement that the discounts on purchases made online by senior citizens and persons with disabilities are mandatory.
"Online platforms should recognize the mandatory discounts given to senior citizens and persons with disabilities. The BIR has issued Revenue Regulation (RR) No. 8-2023 to this effect," Lumagui said in a statement.
"The signature of the SC/PWD is not needed if the purchase is made through online means. The SC/PWD Identification card number should still be provided," he added.
Lumagui, however, stressed that the SC/PWD Identification Card number should still be provided by the SC/PWD when purchasing through online or mobile platforms. (PNA)