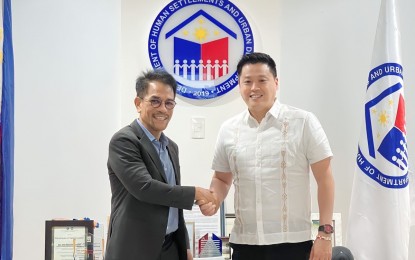 MANILA – The Department of Social Welfare and Development (DSWD) Secretary Rex Gatchalian has sought the assistance of Department of Human Settlements and Urban Development (DHSUD) Secretary Jose Rizalino Acuzar to provide temporary shelters to families and individuals in street situations (FISS).
"The shelter assistance is intended for individuals under the Oplan Pag-Abot program, specifically those who do not have a place to stay in their respective provinces after having been shunned by their families," Gatchalian said in a statement on Friday.
"As we scale up the DSWD Pag-Abot Program, we are working with the DHSUD to temporarily shelter the reached-out individuals," he added.
The meeting between Gatchalian and Acuzar was held at the DHSUD Central Office on Thursday, where they led discussions on the type of housing units that will be provided by the DHSUD as temporary shelter for the reached-out families and individuals while DSWD social workers are processing their return to their respective provinces.
The two heads of agencies are set to ink a Memorandum of Understanding (MOU) to formalize the partnership between the DSWD and DHSUD.
The Oplan Pag-Abot program, launched on July 3, aims to reach out to people living and staying on the streets and provide them with the necessary and appropriate interventions to address their immediate and long-term needs.
As of the end of July, 38 families composed of 113 minors and 111 adults or a total of 224 individuals have been reached out by the DSWD under the program.
As part of their unwavering support of the project, representatives from the local government units, Metropolitan Manila Development Authority (MMDA), Commission on Human Rights (CHR), and Philippine Statistics Authority (PSA) joined DSWD social workers during the reach-out operations.
"As President Ferdinand R. Marcos Jr. always instructs, in solving problems in the country, it always takes more than one department to get the job done – a whole of government approach," Gatchalian said. (PNA)