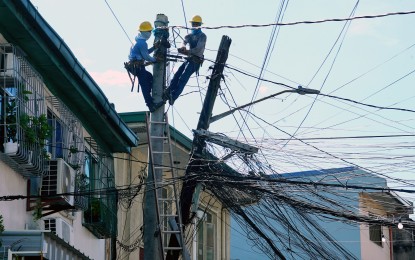 MANILA – A lawmaker on Friday recommended to the Department of Energy and the National Electrification Administration to formulate and implement a long-term plan for the underground laying of electricity power lines and telecommunications cables that should be done gradually over the next 15 years.
Bagong Henerasyon Party-list Rep. Bernadette Herrera said underground power lines and telecoms cables that include satellite internet should be central to ensuring post-disaster continuity and survival, especially in the most calamity-prone localities.
Herrera said the feasibility of laying cables and power lines underground could be studied.
"This multiyear undertaking is, I believe, the appropriate solution to end the repeated isolation of coastal towns and remote islands often in the path of typhoons—as we have just experienced with Super Typhoon Egay," she said.
"Most storms strike extreme northern Luzon, Pacific coastal towns in Regions 2 (Cagayan Valley), 3 (Central Luzon), 4 (Calabarzon), 5 (Bicol), 8 (Eastern Visayas), and Caraga (Region 9). These towns are not many, and they are small, consisting of remote barangays and some islands like Catanduanes, parts of mainland Bicol, Samar, Dinagat, and Surigao," she added.
She said many of these remote locations are tourism destinations, so keeping them supplied with electricity and linked with telecoms serves both local and foreign tourists and tourism establishments.
"Their safety and security are further assured, no matter how remote their locations may be," she said.
In terms of funding, Herrera said a sectoral loan from the usual foreign lending agencies—Asian Development Bank, World Bank, and Japan International Cooperation Agency—would be the "likely primary funding source", which could be attached to and augmented by public-private partnerships or build–operate–transfer projects.
Manila Rep. Joel R. Chua, meanwhile, said he has mobilized the barangays of Binondo to help in the investigation of the collapse of several utility posts that injured three people and damaged eight parked vehicles near the Binondo Church on Thursday.
Chua said he would also ask engineers in Binondo and the district to do a scientific and technical incident analysis because the cables on those posts "may have, at the very least, contributed to the poles collapsing".
"We will look at the CCTV recordings in Binondo to find out what caused those utility poles to fall and nearly kill some Manileños and transients," Chua said.
He said he would also ask engineers and economists to study the feasibility of laying the utility cables underground in some parts of Binondo and Quiapo instead of keeping them hanging on posts.
"This could be the long-term solution and contribute to the livability of Binondo and Quiapo, which are historical and tourism communities," he said.
On Thursday, Department of the Interior and Local Government Secretary Benjamin "Benhur" Abalos Jr. directed all local government units to inspect electric posts, construction sites, billboards, and other similar installations that may collapse during heavy rains.
"A memorandum circular will be issued regarding the matter to ensure compliance and prompt action," he said in a statement he issued after the Binondo incident. (PNA)