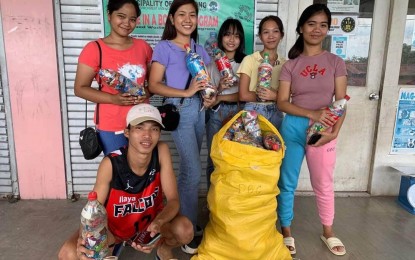 SAN JOSE DE BUENAVISTA, Antique – The municipality of Bugasong has reduced its daily generated waste by 50 percent and even saved on gasoline with its "Garbage in a Bottle" initiative.
"Before, our daily garbage collection was about one ton, but with the implementation of the Garbage in a Bottle, we reduced the collected waste to half," said Domingo Lavega, farm foreman of Bugasong and in charge of the implementation of the solid waste management (SWM) program under the Municipal Environment and Natural Resources Office (MENRO), in an interview on Friday.
Lavega said they thought of the idea when the Department of Environment and Natural Resources (DENR) ordered the closure of open dumpsites throughout the country in compliance with Republic Act 9003 or the Ecological Solid Waste Management in 2021.
The initiative catapulted Lavega as one of the national semi-finalists to the 2023 Civil Service Commission Pagasa Award, conferred to groups or individuals for their contributions benefiting their office, agency community, or region.
The Garbage in a Bottle exchanges a kilo of collected waste placed in a polyethylene terephthalate (PET) bottle with one kilo of rice.
It motivates residents to help protect and conserve the environment by not clandestinely throwing away coffee or juice sachets and other residual wastes.
"The Bugasong LGU yearly allocates a budget of more than PHP80,000 for the rice to be given in exchange for the garbage," Lavega said.
He said not only does Bugasong, which is a third-class municipality, manage its solid waste, but it also saves fuel for its garbage collection truck.
They only have one trip from Monday to Wednesday to collect residual wastes from the previous two.
The collected residual wastes are melted and made into monoblock chairs and tables or eco-brick and eco-path at their residual containment area (RCA) in Barangay Tagudtud South in their municipality with the help of their so-called "Green Boys", who are employees of the LGU tasked to do the waste processing.
"We have a plastic factory machinery from the Antique provincial government that melts the plastic," he added.
Their biodegradable wastes collected Wednesday to Friday are processed into organic liquid foliar fertilizer or vermicast and sold to interested residents, thus generating income for the LGU.
"We really have to do waste diversion considering that establishing a sanitary landfill is expensive," Lavega said. (PNA)