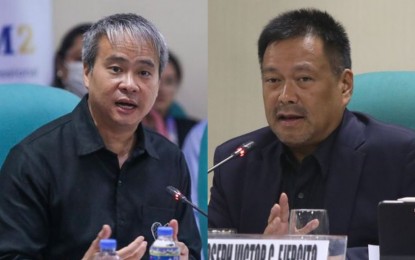 MANILA – Senate Majority Leader Joel Villanueva and Senator Joseph Victor Ejercito on Friday expressed confidence President Ferdinand R. Marcos Jr. shall put into good use the Office of the President's (OP) proposed budget for local or foreign missions and state visits in 2024.
In a Zoom interview, Villanueva said President Marcos' recent travels abroad, which generated a lot of investment pledges, can justify the increase in travel allocations.
"You know, I really think that it's all worth it kasi (because) he even mentioned to us itong latest travel niya dito sa (his latest travel in) Malaysia. He was able to generate USD285 million of investment pledges, and he was saying that amount of money would translate to around 100,000 jobs for our kababayans (countrymen)," Villanueva told reporters.
"Yung programa (The program) in itself for the President to market the country, wala nang mas gagaling pa o mas fit na marketing agent ng ating bansa kundi ang ating Pangulo. What I'm saying dun sa travel fund ng Pangulo, siya yung best salesperson natin eh (no one is a better or more fit as a marketing agent of our country than the President. What I'm saying about the travel fund of the President, he is our best salesperson). The more he travels, the more we get something in return," he added.
In a separate Zoom interview, Ejercito, who traveled with the President in Malaysia, said he witnessed the benefits that a state visit could bring to the country.
He said that in the three days the Philippine delegation was there, their schedule was full of meetings with royalties, the prime minister, businessmen, as well as bilateral meetings.
"And malaking tulong din yung pagre-reestablish (it is also a big help of re-establishing) or strengthening the relationship with our ASEAN (Association of Southeast Asian Nations) neighbors, with EU (European Union) especially, yung ating mga (our) known allies. We want to announce to the world that we are now again ready and open for business," Ejercito said.
However, the lawmaker noted that while President Marcos travels, the government should also address various local issues like infrastructure, airports, energy, and peace and order, which he said are things that investors consider before putting up business in a country.
Nevertheless, Villanueva and Ejercito vowed to scrutinize the OP's proposed budget in general when it reaches the Senate.
The OP is requesting an allocation of PHP1.408 billion for "local/foreign missions and state visits," higher than the PHP893.97 million under the 2023 General Appropriations Act.
President Marcos has so far visited 11 countries since he assumed office in June 2022.
These include Indonesia, Singapore, Thailand, United States, Cambodia, Belgium, China, Switzerland, Japan, the United Kingdom and Malaysia. (PNA)