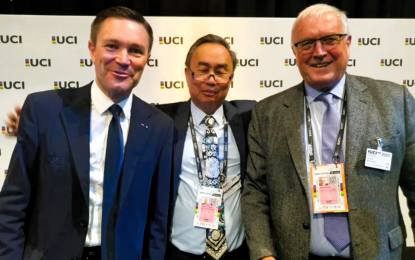 MANILA – Philippine Olympic Committee (POC) president Abraham "Bambol" Tolentino and three other national Olympic committee (NOC) presidents who are also heads of their cycling federations were recognized by the International Cycling Union (UCI) during its Congress in Glasgow, Scotland on Thursday.
UCI president David Lappartient, of the French Olympic Committee, was also recognized along with Indonesia's Raja Sapta Oktohari and Mauritania's Abderrahmane Ethmane.
A record 151 UCI member national federations attended the 192nd Congress at the Scottish Events Center.
"It's a rare and historic event and opportunity," Tolentino said on the first day of the UCI World Championships, which brings together 13 UCI world championships through Aug. 13.
"This won't be happening again soon," he added.
Next year's world championships in Zurich would only feature road events.
Tolentino had the chance to get up close and personal with Lappartient and former UCI president Patrick McQuaid.
Lappartient served as one of the commissaries in the Asian road and track cycling championships at the Amoranto Velodrome (Quezon City) and Subic (Zambales) in 1995, while the Irish-born McQuaid, as UCI's road commission head, worked on transforming the Marlboro Tour into a major international race in Southeast Asia during the 1990s. (PNA)