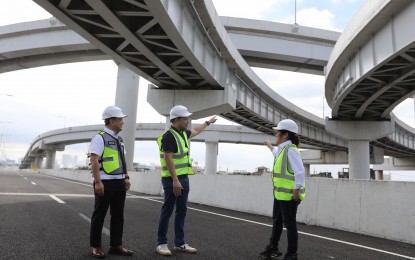 MANILA – The North Luzon Expressway (NLEX) Corporation has been given the green light to charge toll fees for section 1 of the NLEX-South Luzon Expressway (SLEX) connector road project beginning Aug. 8.
In a statement on Friday, the Department of Transportation (DOTr) said NLEX has been authorized by the Toll Regulatory Board (TRB) to collect toll fees at the section of the NLEX-SLEX connector road spanning five kilometers from C3-Road/5th Avenue in Caloocan to España.
"Section 1 (Caloocan to España) was opened to the motoring public on March 29, 2023, without toll fee collection. Currently, around 14,000 motorists are using this new toll road daily enjoying a faster travel time of only around 5 minutes from the usual 30 minutes or more using the old routes," the DOTr said.
Motorists who pass through the new toll road will be charged PHP86 for class 1 vehicles, PHP215 for class 2 vehicles, and PHP302 for class 3 vehicles.
"This new toll road will be the first to implement a 24/7 barrier-free electronic toll collection system. Motorists just need to slow down for safety but need not stop at the toll plaza, resulting in faster and more convenient travel," it said.
The DOTr said the new toll fees were approved by the TRB after a "thorough review and compliance with the publication and posting of a surety bond requirement" in accordance with its concession agreement with the NLEX Corporation.
The road project itself is about eight kilometers in length and is divided into two sections.
Section 2 of the road project is about 3 kilometers in length and will span from España to the Skyway Stage 3.
"A substantial portion of Section 2 from España to Ramon Magsaysay Boulevard is targeted to be completed within the 4th quarter of this year," it said.
The NLEX-SLEX connector road project is a new elevated toll road project that has been processed, reviewed and approved by the National Economic Development Authority (NEDA) as an unsolicited proposal under the Build-Operate-Transfer law with the Department of Public Works and Highways (DPWH) as the contracting party and implementing agency. (PNA)