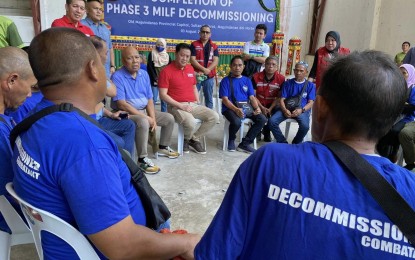 MANILA – The Department of Social Welfare and Development (DSWD) has distributed transitory cash assistance to decommissioned combatants (DCs) of the Moro Islamic Liberation Front (MILF) as part of its commitment to fostering peace in Mindanao.
DSWD Secretary Rex Gatchalian led the distribution of cash aid during the resumption of the Phase 3 Decommissioning of MILF members in Sultan Kudarat, Maguindanao del Norte on Friday, an agency news release said Saturday.
The MILF combatants who underwent the decommissioning process by the Independent Decommissioning Body (IDB) were handed PHP100,000 each.
The 3rd phase of decommissioning, which began in September last year and resumed this August, targets to process about 1,301 MILF combatants within the month.
The provision of financial assistance is in line with the socio-economic development of DCs and their communities under the government's commitment in the Annex on Normalization of the Comprehensive Agreement on the Bangsamoro.
"The presence of the 'Angels in Red Vests' here today is a demonstration to all of us that the DSWD will continue with our commitment to further improve the peace environment in this part of the region by providing social protection services to our brothers and sisters in the MILF towards nation-building. In return, we hope others will continue to invest and contribute to the peace that further strengthens our nation," Gatchalian said.
After the payout, the DSWD chief engaged in an open dialogue with some of the decommissioned combatants of the MILF to better understand their concerns.
"We also discussed with BARMM (Bangsamoro Autonomous Region in Muslim Mindanao) officials ways forward in case management so we can truly extend the proper interventions for reintegration, and also took the opportunity to discuss with them the pilot for the food stamps program," he said.
He also called on the DSWD, other government agencies, the MILF leaders and members, local government units (LGUs), the military and police, and other partner peacebuilders to "continue to nurture and invest in the shared responsibility in cultivating the peace environment in the region."
Gatchalian was welcomed by IDB Chief of Staff Tom Hjertholm and Presidential Assistant of the Office of the Presidential Adviser on Peace, Reconciliation and Unity (OPAPRU) David Diciano in the assembly processing area of the decommissioning.
The DSWD 12 (Soccsksargen) Normalization Team spearheads the payout and enrollment of the beneficiaries in the Biometrics Registration and Verification (BRaVe) System.
In the following years, the DSWD, OPAPRU, and IDB, together with the different mechanisms of the MILF peace process, intend to cater to the remaining 14,000 MILF combatants. (PNA)