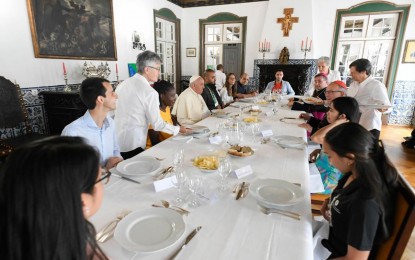 MANILA – A 33-year-old native from Mandaue City, Cebu province was among the eight young pilgrims who joined Pope Francis for lunch at the sidelines of the 2023 World Youth Day (WYD) in Lisbon, Portugal on Aug. 4.
In a social media post, the Archdiocese of Cebu said WYD volunteer Audrey Criscelle Abatol was able to interact with the Holy Father during lunch at the Apostolic Nunciature.
According to the Filipino participant, they had the opportunity to ask the pontiff a few questions.
She asked him how to be a good friend, especially with young people, at a time when there are so many false suggestions on how to be happy.
"I was really touched by his answer. He said that joy is not taught, but shown, and that's what I will bring back with me from this meeting. He also spoke about the joy of the Gospel and the importance of acting in a way that inspires joy," said Abatol.
The Catholic Bishops' Conference of the Philippines news website reported ages of those invited to have lunch with the Pope ranged from 24 to 34, and they hailed from different countries: three from Portugal, and one each from Peru, the Philippines, Equatorial Guinea, United States, Palestine, Colombia and Brazil.
Pasta, meat, and ice cream were served during the lunch.
Cardinal Manuel José Macário do Nascimento Clemente, the Patriarch of Lisbon, and the auxiliary bishop, Cardinal-elect Amèrico Aguiar, president of the WYD Lisbon 2023 Foundation were also present.

The 2023 WYD started on Aug. 1 and will end on Aug. 6. (PNA)