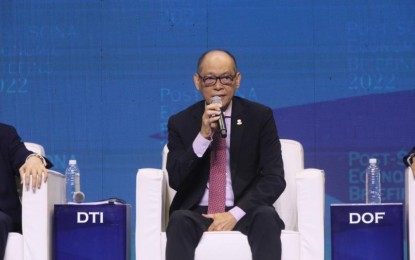 MANILA – The government is conducting a review on the possible further extension of reduced tariff on pork, corn, rice and coal, the Department of Finance (DOF) said.
"We will have a meeting next month, we'll wait in September [to see] if we have to extend across all commodities," Diokno told reporters in his weekly press briefing.
President Ferdinand R. Marcos Jr. signed Executive Order No. 10 late last year extending the temporary modification of rates of import duty on various products including meat, corn and rice in a bid to maintain affordable prices and augment the supply of agricultural commodities in the country.
EO No. 10 extended the reduced Most Favored Nation (MFN) tariff rates on meat of swine (fresh, chilled or frozen) at 15 percent (in-quota) and 25 percent (out-quota); corn at 5 percent (in-quota) and 15 percent (out-quota); rice at 35 percent (in-quota and out-quota); and coal at zero duty until the end of this year.
Finance Undersecretary Zeno Ronald Abenoja said the Inter-Agency Committee on Inflation and Market Outlook (IAC-IMO) already started the comprehensive review on these commodities.
"The IAC-IMO has started reviewing all these items but given the recent developments, typhoons and also external developments, the review not only covers the four agricultural commodities under the EO, but also the other drivers of inflation we've seen in the past few months," Abenoja said.
He clarified however that while the IAC-IMO comprehensive review covers both food and non-food sources of inflation, the extension will cover just rice, corn, pork, and coal.
Abenoja said the DOF is also participating in the comprehensive tariff review program (CTRP) of MFN tariff currently being conducted by the Tariff Commission.
"We are participating in that review. If you look at the tariff structure, a lot of tariff rates have gone down quite dramatically," he said. "We don't want to pre-empt the result of that review. It involves both the industry and other private sector participation." (PNA)