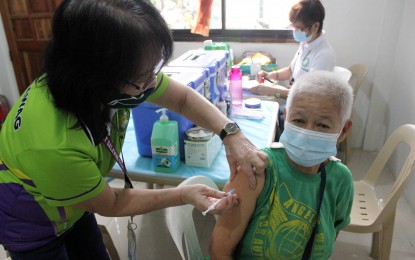 MANILA – A party-list lawmaker on Monday said the funding concerns for the proposed Magna Carta for Barangay Health Workers (BHWs) can be addressed by tapping the Local Government Support Fund (LGSF) and the Internal Revenue Allotment (IRA).
In a statement, BHW Rep. Angelica Natasha Co said the barangay budgets for BHWs can be augmented by the LGSF, the IRA, and funds from the national coffers.
The Magna Carta for BHWs, which is a priority measure of the Marcos administration, would entitle accredited BHWs to incentives and benefits that include hazard allowance, transportation allowance, subsistence allowance, one-time retirement cash incentive, health benefits, insurance coverage and benefits, vacation and maternity leaves and cash gifts.
Co said the BHWs have laid out during a Senate subcommittee hearing on Monday that though they are labeled as volunteers, their work is at par with other employed healthcare front-liners.
"They perform public service way beyond that of mere volunteers. As the feisty BHW leaders have shown, they are fighting for what is rightfully due to them for their many decades of service. They are appealing for a retirement pension upon reaching senior citizen age, aside from the statutory senior citizen pension the DSWD (Department of Social Welfare and Development) gives to indigent seniors in recognition of their public service," she said.
She said the BHW leaders have also conveyed during the same hearing how many BHWs nationwide are nervous and anxious these days with the coming Barangay Elections in October because they could be summarily removed and replaced by the next set of barangay chairpersons and barangay council members.
"Their lack of job security adds to the intense stress they endure. There are barangay chairpersons and candidates for barangay chairperson who have been openly hostile to the incumbent BHWs and have threatened to fire them when they win in the next Barangay elections," she said.
She expressed hope that the Senate will make improvements to the House version and incorporate the provisions of House Bill (HB) No. 6557 into the bill the upper chamber will later approve.
"Lastly, we await the release of the hazard pay and risk allowances, which were supposed to be disbursed during the pandemic health emergency," she said.
Under HB No. 6557, all accredited BHWs who are actively and regularly performing their duties and responsibilities shall be entitled to the following incentives and benefits: a monthly honoraria worth PHP3,000; hazard allowance, which in no case shall be less than PHP1,000 per month; subsistence allowance for meals worth PHP100; and transportation allowance worth PHP1,000 per month.
The proposed law also grants a one-time gratuity cash incentive of not less than PHP10,000 "in recognition of the BHW's loyalty and dedication and for having continuously and satisfactorily served at least [15] years".
Through the bill, all BHWs shall be entitled to a 20 percent discount on all items enumerated under Section 4(a) of Republic Act (RA) No. 9994, otherwise known as the Expanded Senior Citizens Act of 2010. "Provided", it stated, "that the privileges shall not be claimed if the BHW is eligible for a higher discount as may be granted by the commercial establishment and/or other existing laws."
BHWs will also be entitled to health benefits upon the enactment of the measure.
These include free medical care, including surgery and surgical expenses, medicines, x-ray, and other laboratory fees, when confined in any public hospital or health institution; emergency assistance not exceeding the amount of PHP5,000 chargeable against the fund of the barangay concerned, for expenses incurred in the nearest private hospital or clinic in case of extreme emergency where there is no available public hospital; and mandatory and immediate membership in the Philippine Health Insurance Corporation (PhilHealth)as indirect contributors.
All BHWs will also be granted insurance coverage and benefits from the Government Service Insurance System (GSIS) which shall be borne by the LGU concerned.
For this purpose, the GSIS shall design an insurance benefit package suited to the needs and status of BBWs. (PNA)