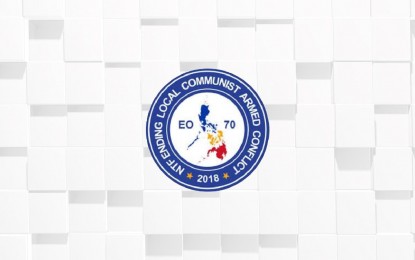 MANILA – Presidential Adviser on Poverty Alleviation Secretary Larry Gadon on Monday pledged full support for the National Task Force to End Local Communist Armed Conflict (NTF-ELCAC) and other government agencies engaged in uplifting the lives of Filipinos in areas vulnerable to recruitment efforts of the Communist Party of the Philippines-New People's Army-National Democratic Front (CPP-NPA-NDF) and their allies.
During the press briefing of the NTF-ELCAC, Gadon said he was impressed with the achievements of the task force over the past five years since its creation through Executive Order No. 70 despite its receding budget.
"As far as I know, the projects of NTF-ELCAC are really good. They really helped in stabilizing the peace situation in an area of concern dahil nakakapagbigay sila ng mga (because they are able to provide) economic opportunities," he added.
Gadon also expressed interest in the task force's Barangay Development Program (BDP) which he said should be sustained and given more funding.
While his office is not an implementing agency, Gadon said it is his mandate to synchronize all government efforts pursuant to President Ferdinand R. Marcos Jr.'s "One Policy" to bring basic social services to poverty-stricken areas in the country.
During his first State of the Nation Address, the President vowed to reduce the poverty incidence rate to 9 percent on or before he steps down from office.
"Presidential Adviser on Poverty Alleviation is not an implementing agency. What we can only do is conduct an assessment and evaluation in a particular area of concern. And then, we can recommend the projects that are already being undertaken by NTF-ELCAC," Gadon said.
Aside from NTF-ELCAC, Gadon said he will also do the same to the National Anti-Poverty Commission and the Presidential Commission for the Urban Poor which serve as direct links to the government's poverty alleviation program.
He also expressed confidence that the government's whole-of-nation approach as now being exemplified by the task force would spur more job creation across the country.
"Dapat ay isulong natin ng masigabo ang agricultural at industrial sector upang yang 95 percent na majority (workforce) ay mapunta sa (We should push for the strengthening of our agricultureal and industrial sector so that the 95 percent majority workforce would get) permanent jobs," Gadon said.
Gadon praised the President for signing a bill into law that emancipated hundreds of thousands of farmers from their perennial debts.
"Sa (In the) agricultural sector, he signed into law the Agricultural Emancipation. Malaki ang ginagawang tulong ng ating gobyerno para sa ating mga magsasaka (The government is exerting a lot of efforts to assist our farmers). And I hope this will revive our agricultural sector," he said.
The peasant sector had been the most vulnerable among sectors where NPA recruitment is prevalent. (PNA)