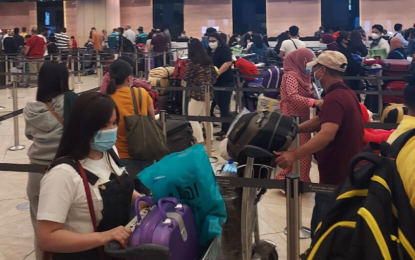 MANILA – An office that will have jurisdiction over claims and disputes involving overseas Filipino workers (OFWs) will ensure a more focused and streamlined approach to address their specific needs, a proposal under House Bill 8805 that seeks to create the Migrant Worker Relations Commission (MWRC).
House Committee on Overseas Workers Affairs chair and Kabayan Party-List Rep. Ron Salo, bill author, said the MWRC will be under the Department of Migrant Workers (DMW).
DMW was created by virtue of Republic Act No. 11641, signed by President Rodrigo R. Duterte on Dec. 30, 2021.
"It was initially proposed in the original draft creating the DMW in the House of Representatives," Salo said in a news release on Tuesday.
However, during the deliberations, Salo said was decided that the creation of the MWRC be considered in a separate bill, adding that the need for such a specialized institution remains paramount.
"Currently, the National Labor Relations Commission (NLRC), a quasi-judicial agency attached to the Department of Labor and Employment, resolves claims and disputes involving OFWs. Considering that the NLRC handles more than 30,000 cases annually, the cases of OFWs are subjected to potential delays and backlogs," Salo noted.
Salo said under his proposed bill, the OFWs will be provided with a timely and fair resolution of their grievances.
"This expeditious process will be particularly advantageous for OFWs who must return abroad for work, allowing them to pursue their livelihoods without unnecessary delays caused by unresolved disputes," he added.
The MWRC will be structured similar to the NLRC, composed of a chairperson and eight commissioners divided into three divisions with three commissioners each.
There shall also be Migrant Worker Arbiters and Conciliators-Mediators in arbitration branches to hear and decide cases involving OFWs or encourage them to enter into compromise agreements.
The bill likewise provides for multiple checks and balance mechanisms to ensure the responsive and fair processes of the Commission.
"The MWRC underscores our commitment to the welfare of our OFWs. We recognize the hardships they face and the sacrifices they make for the growth and prosperity of our nation," Salo said. "Their contributions remain integral to the nation's advancement, and the MWRC stands as a testament to the government's unwavering commitment to their well-being." (PNA)