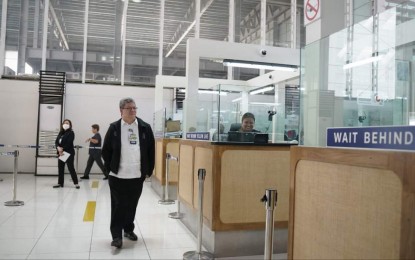 MANILA – The Bureau of Immigration (BI) on Wednesday expressed its support to disincentivize rescued trafficking victims who will opt to reengage in similar illicit work.

In a statement, BI Commissioner Norman Tansingco said this move shall prevent rescued Filipino workers from going back to their illegal employers.

"We support the recommendation of the Inter-Agency Council Against Trafficking (IACAT) to disincentivize victims who again depart without proper documentation, or end up in similar companies here in the Philippines," he said.

Tansingco made the remark following a conducted raid against a Philippine offshore gaming operator (POGO) company in Pasay City last Aug. 1.

According to the IACAT, one of the workers caught during the operation was a formerly rescued victim in a scam firm in Myanmar.

Tansingco expressed dismay, noting the assistance provided by the government to repatriated victims.

"It's disheartening to see these victims being exploited over and over again," he said.
Typical aid provided by the Overseas Workers Welfare Administration (OWWA) to repatriated victims include legal assistance, financial aid and psychosocial interventions, among others.
Besides disincentivizing, Tansingco underscored the need for whole-of-government programs to discourage Filipino workers from accepting illegal offers.
No proposed amnesty

Meanwhile, the BI denied reports that it is set to propose an amnesty grant for illegal aliens, including overstaying foreigners and POGO workers.

In an earlier statement, Tansingco insisted such a claim is "baseless," including the BI's alleged plan to collect PHP2 billion worth of fines and penalties from illegal aliens.

"No such proposal has been submitted by the BI... We are an implementing agency and amnesty would require a new law passed by Congress," he said.

Tansingco debunked reports claiming that the BI submitted an amnesty draft proposal to the Department of Justice, quoting Immigration deputy commissioner Daniel Laogan.

Laogan was quoted saying that an illegal alien shall pay at least PHP25,000 per year of overstay in the Philippines.

"Such statements are unauthorized and figures are baseless... His statements are careless and dangerous," Tansingco said.

He reiterated that the proposal is not on the table.

He also warned the public against illegal groups allegedly selling slots for the supposed amnesty via social messaging applications. (PNA)