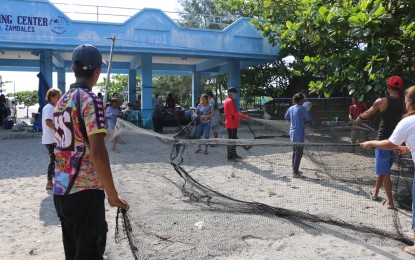 CALAPAN, Oriental Mindoro – This city's Fisheries Management Office (FMO) on Wednesday released back into their natural habitat an endangered green turtle (Chelonia mydas) and a greater crested tern (Thalasseus bergii) after both animals were accidentally caught in a fish trap built by local fishermen.
Marius Panahon, a technical officer at the FMO, said the turtle and bird were caught off the coast of Barangay Wawa on Monday, but were subsequently turned over to authorities by the fishers.
He described the green turtle as weighing between 135 and 140 kilos and having a carapace with a diameter of 87 centimeters and a width of 81 centimeters.
"It's possible that both the green turtle and the Greater Crested Tern got accidentally trapped in the fish corral while they were foraging for food," he added.
Panahon explained that the FMO sought out advice from bird experts from the Wild Bird Club of the Philippines and Birding Adventure Philippines before deciding to release the bird.
Fish traps, locally called "baklad," are used by fishermen to capture fish, but sometimes other marine creatures can get inadvertently caught in these artificial structures, he explained.
The province's Bantay Dagat team, who are employed by the FMO on a casual basis, were also credited for helping rescue the trapped animals.
"This proves (the effectivity of) community engagement in marine conservation. The synergy among Bantay Dagat, local officials, and community members works," said Clark Ross Bautista, officer of the FMO Coastal Resource Management and Bantay Dagat officer designate. (PNA)