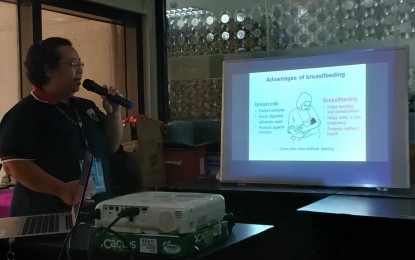 ILOILO CITY
– Mothers who cannot breastfeed their children after giving birth will benefit from the first-ever milk-letting event scheduled here
on August 22.
The event, to be led by the city government and the La Paz Maternity and Reproductive Health Clinic, is in line with the celebration of the Breastfeeding Awareness Month.
"It (the milk) can also be given to mothers who got sick or have complications after delivery," Dr. Pia Pico, Nutrition Program Medical Officer Coordinator at the La Paz Maternity and Reproductive Health Clinic, said in a press conference on Thursday.
Pico said they do not have a target volume or the number of breastfeeding mothers who will be joining the event.
She said the milk to be collected will be deposited initially at the Western Visayas Medical Center Human Milk Bank.
Aside from being a costless and non-artificial feeding, Pico said breast milk has perfect nutrients, can be easily digested and efficiently used, and protects babies against infection.
Pico said as of the second quarter this year, around 92.8 percent of the mothers who gave birth at their health clinic practiced newborn-initiated breastfeeding, which lasted up to 19 minutes.
She said those who continue breastfeeding for up to five months account for around 95.73 percent.
"Breastfeeding helps in the bonding and development between the mother and the baby. So, there is a close, loving relationship between (the) mother and (the) baby. The mother is more emotionally satisfied, especially when the baby gets healthier because of her breast milk," she added.
Meanwhile, a group of breastfeeding support group, Breastfeeding Ilonggas (BFI), will hold the 10th year of its "Hakab Na" or "The Big Latch On," an annual breastfeeding event in solidarity with other breastfeeding mothers and advocates across the globe,
on August 19
at the SM City Iloilo main activity center.
(PNA)