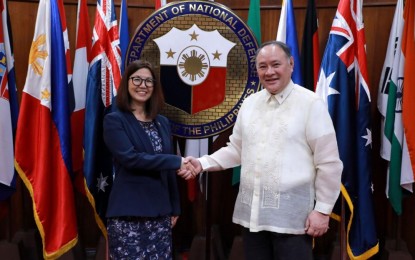 MANILA – The Department of National Defense (DND) thanked the Australian government for its continued support to medical projects of the Armed Forces of the Philippines (AFP).
This came following Defense Secretary Gilberto Teodoro Jr.'s meeting with Australian Ambassador to Manila Hae Kyong Yu on Aug. 8 at the DND main building in Camp Aguinaldo, Quezon City, as relayed by spokesperson Arsenio Andolong said in news release on Friday.
"Secretary Teodoro also took the opportunity to express appreciation to the Australian Government for its donation to the AFP in relation to the upcoming Project-based Community Medical Deployment/Medical Aid Provision under the ASEAN Defense Ministers' Meeting - Plus Experts' Working Group on Military Medicine, which is currently co-chaired by Brunei Darussalam and Australia," Andolong said.
The ASEAN Center of Military Medicine "establishes practical, effective, and sustainable cooperation among military medical services of AMS (ASEAN Member States) and Plus Countries (eight dialogue partners Australia, China, India, Japan, New Zealand, Republic of Korea, Russia and the United States), both in normal and crisis situations."
In the same meeting, Teodoro acknowledged the "mature" defense cooperation between the Philippines and Australia in various bilateral and multilateral platforms.
It is in line with President Ferdinand R. Marcos Jr.'s guidance on transitioning the focus of the Philippine defense sector to external defense.
"Notably, Secretary Teodoro welcomed the conduct of the Philippine leg of the Indo-Pacific Endeavor, Australia's flagship regional engagement activity and the inaugural Defense Minister's Meeting," Andolong said.
He added the Philippines and Australia took stock of bilateral activities that reaffirm the deep friendship between the two nations aside from having "shared objectives in promoting regional peace and security."
"Ambassador Yu reiterated Australia's appreciation for the Philippines' assistance in locating the wreckage of SS Montevideo Maru, a World War II vessel that sank northwest of Luzon in 1942, which killed Australian prisoners of war, among others," Andolong said.
PH, Israel explore potential areas of defense cooperation
As this developed, Teodoro also reaffirmed the DND's interest in further strengthening defense and military relations with Israel, particularly on information sharing, and education and training exchanges.
This took place during his meeting with Israeli Ambassador to Manila Ilan Fluss, also on Aug. 8.
"Congratulating Secretary Teodoro on his appointment, Ambassador Fluss expressed confidence in the collaborative efforts of the Philippines and Israel in further increasing defense and military engagements. He indicated Israel's interest to explore potential areas of cooperation, particularly in space and technology, search and rescue, humanitarian assistance and disaster relief (HADR), and cyber security, among others," Andolong said.
Teodoro welcomed the proposal, which supports the Philippines' capacity building efforts and capability to address defense and security issues.
In broadening Philippines-Israel logistics and defense procurement cooperation, the defense chief also raised the possibility of a joint venture between both countries' defense industries in support of the Philippines' Self-Reliant Defense Posture (SRDP).
The meeting concluded with both sides looking forward to advancing defense and military relations, and working together in enhancing both countries' capabilities amid pressing security challenges, Andolong noted. (PNA)