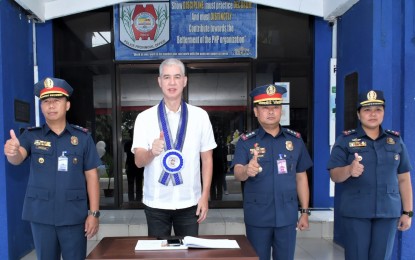 BACOLOD CITY – There should be a sustained implementation of programs under the National Task Force to End Local Communist Armed Conflict (NTF-ELCAC) to address insurgency in the province, Negros Occidental Governor Eugenio Jose Lacson said Friday following the death of a police officer during an encounter with members of the Communist Party of the Philippines-New People's Army (CPP-NPA).
Lacson said it is a challenge to the military and the police to push for the success of ELCAC by enticing followers of the CPP-NPA to rejoin mainstream society.
"We should push ELCAC because we want a peaceful society. We cannot allow this to continue," said Lacson, chairperson of the Provincial TF-ELCAC, on the sidelines of the 122nd Police Service Anniversary rites of the Negros Occidental Police Provincial Office (NOCPPO) here.
On Wednesday, a NOCPPO member died while three others were wounded during the armed encounter while on their way to serve warrants of arrest to communist terrorists in the hinterlands of Calatrava town, northern Negros.
The fatality was identified as Cpl. Jaime Nuñez while those wounded were deputy station chief Capt. Jesus Alba, Staff Sgt. Frank Caballero and Cpl. Dennis Nasis, all of Calatrava Municipal Police Station.
Previously, two unarmed civilians were killed by CPP-NPA rebels in the municipality, according to the Philippine Army's 79th Infantry Battalion.
Lacson said that through the TF-ELCAC, those who have surrendered have been "given a new opportunity to start all over again" through assistance from the government.
Data showed that in 2022, the provincial government facilitated the release of financial assistance worth PHP1.230 million to 25 former rebels, including 19 NPA combatants and six Militia ng Bayan members.
The release of PHP1.26 million in financial aid to 42 more former rebels is also being processed.
Lacson expressed his appreciation to the NOCPPO, led by provincial director, Col. Leo Pamittan, for their "selfless and courageous service" especially in times when they are "in the face of danger as a consequence of law enforcement".
"We value your hard work and all the sacrifices you make to preserve law and order and to ensure public safety," he said.
The governor noted that police work is "one of the most noble and selfless callings" but also "requires a great balancing act between law enforcement and the preservation of liberty."
"It is for this reason that I urge all of you to be not just legal troops but to be moral troops as well," he added.
On Aug. 8, NOCPPO was awarded the Best Provincial Police Office in the country during the 122nd Police Service Anniversary program of the Philippine National Police in Camp Crame, Quezon City. (PNA)