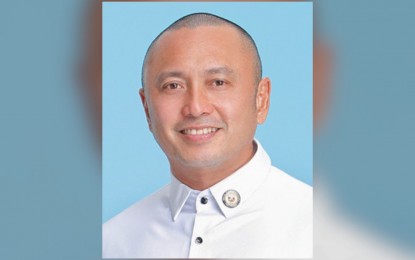 MANILA – Murder charges will be filed before the Manila Regional Trial Court against embattled Negros Oriental (3rd District) Rep. Arnolfo "Arnie" Teves Jr. and five others for their alleged part in killings four years ago, including the ambush of a former agent of the National Bureau of Investigation (NBI) in broad daylight.
Department of Justice Secretary Jesus Crispin Remulla confirmed to the media on Friday that Teves, Hannah Mae Sumerano (alias Hannah Mae), Richard Cuadra (alias Boy Cuadra), Jasper Tanasan (also identified as Bobong Tanasan), Alex Mayagma and Rolando Pinili (referred to as Inday) were indicted for the deaths of Michael Dungog, Lester Bato and Pacito Libron.
Remulla said if prosecutors were not able to meet Friday's deadline, they will file the cases on Monday.
"After a comprehensive evaluation of the complaint and the presented evidence, the investigating panel of prosecutors determined that the evidence is sufficient to substantiate charges of three counts of murder," the DOJ statement read.
A former NBI agent and former board member in Teves' district, Dungog was fatally shot on March 25, 2019 in front of Silliman University Medical Center in Dumaguete City.
Bato (alias Tom Tom), a bodyguard for Basay mayoralty candidate Cliff Cordova, was killed on May 26, 2019 in Sitio Labugon, Barangay Nagbo-alao while Libron, an alleged hitman associated with Teves, was shot to death also in 2019 while riding a motorcycle along the national highway in Barangay Malabugas, Bayawan City.
"The foundation of the complaint rests upon the extrajudicial confession provided by respondent Gemuel Hobro, facilitated with the assistance of his chosen legal counsel. Hobro's confession implicates him as part of a group hired by Congressman Teves to carry out the aforementioned murders, shedding light on the motives driving these actions. Hobro asserts his presence during all three incidents and identifies the individuals responsible," added the DOJ.
Hobro was included in the murder complaints filed by the Philippine National Police-Criminal Investigation and Detection Group National Capital Region on April 12.
He has been conditionally admitted into the Witness Protection Program.
Teves, whose whereabouts remain unknown, has been designated by the Anti-Terrorism Council as part of a terrorist group operating in the province.
Since going on leave prior to the March 4 assassination of Negros Oriental Governor Roel Degamo, Teves has yet to return to the country. His official leave expired on March 9.
Some suspects have pointed to Teves as the mastermind in the Degamo slay but they have recanted their testimonies. (PNA)