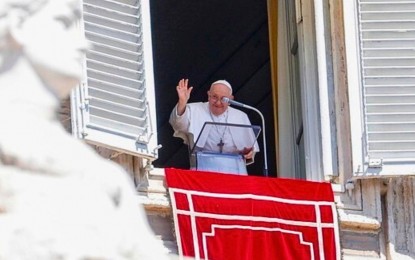 ROME – The death at sea of migrants and refugees crossing the Mediterranean in search of safety and a better life in Europe is an "open wound on our humanity", Pope Francis said on Sunday.
"Another tragic shipwreck happened a few days ago in the Mediterranean: 41 people lost their lives, I prayed for them," the Pope told crowds of faithful gathered in St. Peter's Square for the Sunday Angelus prayer and blessing.
"With pain and shame we must say that already almost 2,000 men, women and children have died in this sea trying to reach Europe since the beginning of the year.
"It is an open wound on our humanity," he added.
"I encourage the political and diplomatic forces that seek to heal it in a spirit of solidarity and fraternity," the pope continued, also recalling "the commitment of all those who work to prevent shipwrecks and rescue people at sea".
On Wednesday, survivors of a shipwreck that occurred in the Central Mediterranean between Aug. 3 and 4 reported that 41 people including three children remained missing.
The survivors, an unaccompanied 13-year-old child, a woman and two men, were rescued by a merchant ship and brought to safety in Lampedusa by the Italian Coast Guard.
As of Aug. 13, 2,175 people were reported dead or missing in the Mediterranean since the start of 2023, according to UNHCR figures.
This compares to 2,438 over the same period in 2022.
Of the total, 1,361 died or went missing on the Central Mediterranean route. (ANSA)