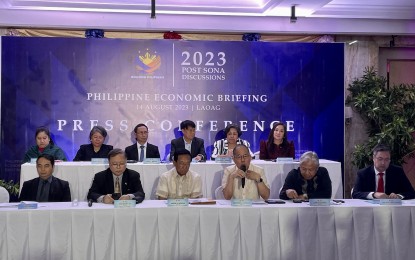 LAOAG CITY – The Department of Public Works and Highways (DPWH) on Monday announced its plan to construct an eight-kilometer floodway and a diversion channel in Ilocos Norte to put an end to the perennial flooding in downtown Batac and low-lying areas in neighboring Paoay town.
At a press conference at the Fort Ilocandia Resort, DPWH Secretary Manuel Bonoan said the project will get initial funding next year though the project design is now in the works, with the structure expected to be completed in two to three years, as part of the Marcos administration's priority flood control projects.
"The plan is to divert partly Quiaoit River to Galpac creek by constructing a floodway in Batac City to connect to Paoay," said Bonoan after coming out of the Philippine Economic Briefing attended by the different Cabinet secretaries here.
During the typhoon season, the Quiaoit River in Batac City often swells, leaving hundreds of households underwater for days.
Constructing a floodway or a diversion channel, the DPWH said will mitigate flooding in the area as the excess floodwater will be partly diverted to the Paoay Lake for irrigation purposes.
In the meantime, the city government of Batac has purchased at least four units of backhoes to clear waterways during the onset of the rainy season and help reduce incidents of flooding in low-lying areas.
"We are glad that the DPWH and the national government is helping us address our flooding problem," Batac Mayor Albert Chua told reporters also on Monday.
While in Ilocos Norte, the DPWH secretary also took the time to visit the Patapat viaduct where a portion of the Manila North Road in Barangay Pancian, Pagudpud is prone to landslide.
To prevent on- and off-road closures during bad weather, Bonoan reported that the DPWH is extending the Patapat viaduct to two kilometers more.
For now, the DPWH is working on stabilizing the slope protection until the rainy season is over and they can start constructing the extension of the Patapat viaduct.
Early on, the DPWH approved an initial budget of PHP300 million for the Patapat Viaduct 2 project which will be implemented on a multi-year project to be completed in four years for PHP1.2 billion.
The project was initiated by Ilocos Norte (1st District) Rep. Ferdinand Alexander Marcos to help address the frequent road closures on the Manila North Road caused by landslides and rockslides during inclement weather. (PNA)