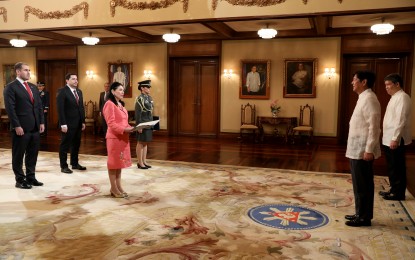 MANILA – President Ferdinand R. Marcos Jr. on Tuesday sought to elevate the Philippines' relations with Peru and Ethiopia.
This, as he received the credentials of new ambassadors Cecilia Zunilda Galarreta Bazán (Peru) and Dessie Dalkie Dokamo (Ethiopia) in a ceremony held at Malacañan Palace in Manila.
State-run Radio Television Malacañang (RTVM) shared video clips during the presentation of credentials of Bazán and Dokamo.
Bazán conveyed Peruvian President Dina Boluarte's "warm wishes of happiness, peace and prosperity to the Chief Executive and the Filipino people," according to the RTVM's Facebook post.
"Ambassador-Designate Bazán notes the thriving trade relations between the Philippines and Peru, as well as hopes to further deepen cooperation in areas of mutual interest," the statement read.
"For his part, President Marcos Jr. warmly welcomes the Peruvian envoy to the country, citing his optimism on the plans relayed by Ambassador-Designate Bazán to strengthening ties between the two nations," it added.
The Philippines and Peru established formal diplomatic relations on Nov. 30, 1974.
Dokamo also relayed Ethiopian President Sahle Work-Zewde's "warm wishes for the President's well-being and for the Philippines' welfare and prosperity."
Dokamo assured Marcos that he would fulfill his diplomatic mission to advance the bilateral relations between the Philippines and Ethiopia, as well as to work towards the interest and prosperity of the two nations' peoples and governments.
Marcos vowed that the Philippines would explore possible partnerships with Ethiopia.
"I hope that this is the beginning of much stronger relationship although we have been partners for a good long time. I think it is, the time is right that we will improve those connections," Marcos told Dokamo, as quoted by RTVM.
2024 APEC Forum
Meantime, Bazán extended the invitation for Marcos to attend the Asia-Pacific Economic Cooperation (APEC) Economic Leaders' Meeting in Peru in November 2024.
Peru's hosting of the APEC forum next year will coincide with the commemoration of the 50th anniversary of formal diplomatic relations between Manila and Lima.
"The Peruvian envoy looks forward to receiving President Marcos Jr. and the Philippine delegation in her country next year, noting the similarities in culture between the two nations -- the closest one culturally with Peru, according to her, among all countries in Southeast Asia," based on the RTVM's Facebook post.
Marcos expressed appreciation for the invitation extended to him to participate in the 2024 APEC Economic Leaders' Meeting, saying "that will be a very good step for the strengthening and deepening of the relations between what might be regarded as very, very distant countries but in fact are connected by the Pacific Ocean." (PNA)