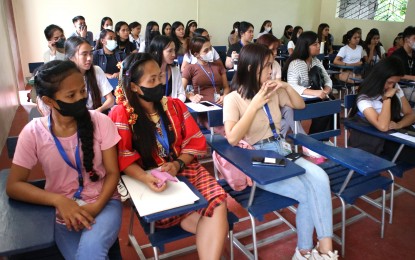 MANILA – The Marcos administration is proposing an allocation of PHP105.6 billion for the state universities and colleges (SUCs) in 2024, the Department of Budget and Management (DBM) announced Wednesday.
In a statement, the DBM said the proposed budget under the 2024 National Expenditure Program (NEP) would be used to support free tertiary education and address the learning losses because of the pandemic.
Around PHP21.7 billion of the proposed allocation would be given to 116 SUCs under the Universal Access to Quality Tertiary Education (UAQTE) Program which guarantees free tertiary education to some 3,145,098 students nationwide.
The DBM said the proposed UAQTE budget for SUCs was higher by 14.32 percent or PHP3 billion compared to the PHP18.8 billion budget from the 2023 NEP.
Around PHP26 billion of the proposed UAQTE budget would be used to support the programs of the Commission on Higher Education (CHED), while PHP3.4 billion would be tapped for the free technical vocational education and training of 38,179 enrollees and 10,126 graduates of the Technical Education and Skills Development Authority (TESDA).
"Access to quality education will also be at the forefront of the government's education agenda through the Universal Access to Quality Tertiary Education," Pangandaman said.
To bolster the learning experience and help Filipino youth unlock their potential, SUCs would also receive PHP3.4 billion for their infrastructure projects, the DBM said.
A total of PHP924.7 billion would be allotted for the education sector, equivalent to 16 percent of the PHP5.768-trillion proposed national budget for 2024.
In his budget message, President Ferdinand R. Marcos Jr. acknowledged the importance of access to free tertiary education for Filipinos, especially since most educational institutions in the country are already conducting full face-to-face classes.
"With 99.5 percent of our public schools now implementing 5-day in-person classes, this amount will fund significant investments in the education of over 28 million learners nationwide," Marcos said.
"Improving education facilities is essential for creating a conducive learning environment for all learners, including those in remote and hard-to-reach areas," he added, stressing that a "well-equipped and well-designed classroom can foster a positive atmosphere for learning." (PNA)