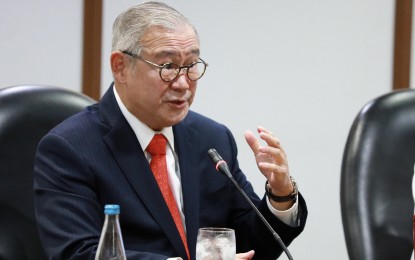 MANILA – President Ferdinand R. Marcos Jr. has appointed former Foreign Affairs secretary Teodoro Locsin Jr. as his special envoy to China for special concerns, Malacañang announced Wednesday.
Locsin's appointment was announced in a Facebook post by the Presidential Communications Office (PCO).
Marcos initially appointed Locsin as Philippine Ambassador to the United Kingdom of Great Britain and Northern Ireland in September 2022.
Garafil, meanwhile, clarified that Locsin would remain as the country's envoy to the UK.
"Yes, he is on a concurrent capacity," the PCO chief said in a message to Palace reporters.
Garafil said Locsin's new appointment would help boost bilateral relations between Manila and Beijing.
Locsin is a lawyer, politician and former journalist.
He served as head of the Department of Foreign Affairs under the Duterte administration.
He also worked as a speechwriter and press secretary of the late former president Corazon Aquino before being elected as Makati representative for three consecutive terms from 2001 to 2010.
Locsin was also the speech writer of former presidents Gloria Macapagal-Arroyo from 2002 to 2006 and Joseph Ejercito Estrada in 1998.
He also became the publisher of the Philippines Free Press, and the national broadsheets, the Daily Globe and Today.
Locsin was also nominated twice to be an associate justice of the Supreme Court, which he both declined.
He earned his Bachelor of Laws from the Ateneo de Manila University in 1977 and a Master of Laws degree from Harvard University in 1983. (PNA)