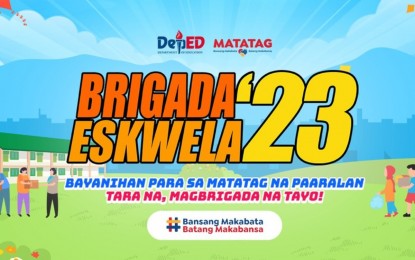 CALAPAN CITY, Oriental Mindoro – The Department of Labor and Employment (DOLE) is hiring unemployed individuals from oil spill-affected towns in this province to help prepare public school facilities for the opening of classes on Aug. 29.
The effort effectively aligns the DOLE's Tulong Panghanapbuhay sa Ating Disadvantaged/Displaced Workers (TUPAD) program with the Department of Education's (DepEd) Brigada Eskwela program, said Rhyme Torres, a senior labor and employment officer at DOLE-4B (Mimaropa).
Torres told the Philippine News Agency on Wednesday that those hired under the TUPAD program will be assigned to perform manual tasks that are not too strenuous, such as minor repairs on school furniture and fixtures, painting of classrooms and general cleaning chores.
In Pinamalayan, a coastal municipality, some 123 applicants have been accepted into the TUPAD program, and are scheduled to report for duty to their assigned public schools on Thursday.
They are being given temporary employment lasting 10 days, for which they will be paid PHP355 per day or PHP3,550 for the entire stretch, which represents the current minimum wage in Region 4B.
Torres, who is also the TUPAD program's focal person in the region, said the latest hires are not composed solely of fishermen displaced by the recent oil spill, but people from a range of backgrounds needing short-term jobs.
He explained that many fishermen are already back to work since only traces of oil remain on the coasts of Oriental Mindoro, and bans on fishing activities have been lifted.
The DOLE, under its TUPAD program, offers jobs for a minimum period of 10 days, but not to exceed 30 days, to men and women aged 18 to 75 years old.
The labor official also disclosed that a group of 63 Pinamalayan residents just completed their 10-day contracts under the TUPAD program on Wednesday.
In an earlier interview, Labor Undersecretary Ciriaco Lagunzad said that the launch of short-term job opportunities and "training cum production" activities is the government's response to the sinking of the oil-laden MT Princess Empress off the coast of Naujan, Oriental Mindoro on Feb. 28.
Initial DOLE estimates put the number of workers displaced to 27,000, as the oil spread to several coastal towns. (PNA)