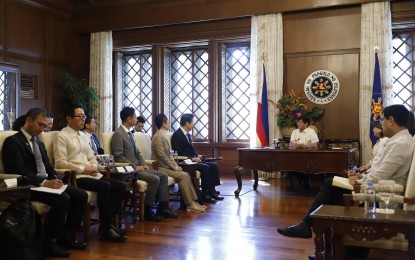 MANILA – President Ferdinand R. Marcos Jr. on Wednesday expressed optimism about the partnerships between the Philippines and Japan would be "stronger and closer" in the coming years.
This, as Marcos met with Natsuo Yamaguchi, Chief Representative of Japan's Komeito Party, at the President's Hall of Malacañan Palace in Manila.
"On the front of our more traditional partnerships, which is in investment and development, I think we have found many ways to continue to make our two countries closer in that regard, in terms of trade, in terms of investment despite the fact that we have already over the past decades forged a very strong relationship," Marcos told Yamaguchi and other Komeito Party officials who paid him a courtesy call.
"I can see in the next few years that we have the potential to make that partnership even stronger and even closer," he added.
Marcos said the Komeito Party officials' visit to the Philippines is vital in forging deeper relations between the Philippines and Japan, adding that his administration is committed to boosting the two nations' cooperation on various areas such as trade, economy, infrastructure and maritime industry.
He hoped that his meeting with Yamaguchi would lead to closer interaction with Japan, "not only on the government-to-government level but also on the parliamentary level and every level possible."
"Japan and the Philippines have been so close for a very long time that we have established all of those connections, and we hope to make them stronger and deeper in the future," Marcos said.
Stressing the need to elevate the two countries' cooperation anchored on enhancing key discussions in defense and security in Asia-Pacific, Marcos expressed his desire to establish and create more opportunities in boosting economic strength and peace between Manila and Tokyo.
"I suppose now, times have changed, and those agreements have gone beyond just trade, business, investment, and we now have to concern ourselves with issues of security and defense in our region," he said.
Yamaguchi, meantime, hoped that the establishment of the Philippines' first-ever Maharlika Investment Fund (MIF) would help generate more investments for the country's infrastructure development.
He also expressed optimism that the MIF will be a "transparent and independent" sovereign wealth fund.
Present during Yamaguchi's courtesy call to Marcos were Philippine Ambassador to Japan Mylene Garcia-Albano, Communications Secretary Cheloy Velicaria-Garafil, Japanese Ambassador to the Philippines Kazuhiko Koshikawa, and officials from the Department of Foreign Affairs and Komeito Party.
Founded by Buddhist organization Soka Gakkai in 1964, Komeito Party has consistently worked to represent the interests of a significant segment of underrepresented citizens of Japan.
The party currently has approximately 400,000 members and forged alliance with Japan's Liberal Democratic Party. (PNA)