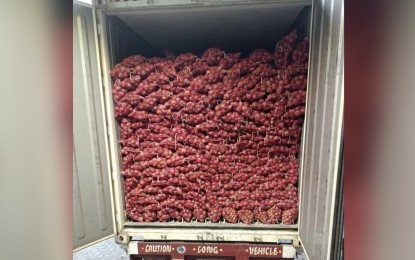 MANILA – AGRI Party-list Rep. Wilbert Lee on Thursday pushed for the passage of a pending House bill strengthening the Anti-Agricultural Smuggling Act amid reports of hoarding of agricultural products like rice, garlic and onions.
Lee emphasized the need to punish smugglers, hoarders, price manipulators and even government employees and officials involved in this crime.
He earlier filed House Bill 5742 or the "Anti-Agricultural Smuggling and Economic Sabotage Act of 2016" which aims to include the other unlawful act of market abuses.
The bill also seeks to modify a stricter penalty to those public officials or employees who tolerate and protect large-scale agricultural smuggling, and other market abuses, namely but not limited to, hoarding, profiteering, or cartel in the country.
"When these criminals hoard vital agri products like rice and onions to increase prices and earn larger profits, they are profiting off the hunger of our impoverished countrymen," Lee said.
"Profiteers deserve to go to prison. Demonyo lang ang mag-iisip na okay lang magutom ang kapwa basta kumita sila (Only demons will think that it's okay their fellow men get hungry just to earn money)," he added.
The penalty of up to life imprisonment and a fine of up to twice the fair value of the smuggled agricultural product or the product subject to hoarding, profiteering, or cartel and the aggregate amount of the taxes, duties and other charges avoided plus interest at the prevailing legal rate shall be imposed on any person who violates the law.
House Speaker Martin Romualdez earlier said the House would prioritize the passage of the proposed amendments to the Anti-Agricultural Smuggling Act in the second regular session of the 19th Congress after the prices of onions surged last month.
Marikina Rep. Stella Quimbo said there is "substantial" evidence that a cartel is behind rising onion prices.
Department of Agriculture (DA) Assistant Secretary and deputy spokesperson Rex Estoperez earlier said the agency's Inspectorate and Enforcement group would inspect warehouses amid allegations of manipulation of stocks to justify increases in retail prices of rice.
Lee, however, said none has been arrested for these illegal activities.
"Magpapatuloy ang karumal-dumal na krimeng ito hangga't walang nasasampolan na mga sangkot at protektor nito. Dapat mapanagot at maipakulong ang mga nasa likod ng agri smuggling na pumapatay sa kabuhayan ng ating mga magsasaka (This abominable crime will continue unless someone responsible and his protector are punished. People behind these agri smugglings that kill our farmers must be put behind bars)," Lee said. (PNA)