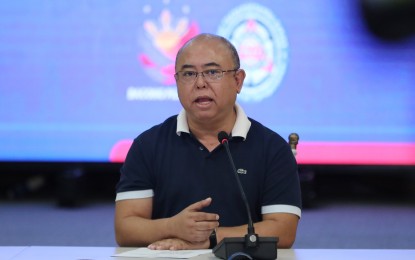 MANILA – The Land Transportation Office (LTO) on Thursday assured the public that the recent temporary restraining order (TRO) issued against its new supplier for driver's license cards is just a "temporary setback" and expects that the entire license card backlog will be gone by the end of the year.
In a press conference, LTO chief Assistant Secretary Vigor Mendoza II said the TRO, which was issued by the Quezon City Regional Trial Court Branch 125 based on the petition of the agency's previous license card supplier Allcard Inc., is temporary and will be addressed as early as Tuesday next week.
"Meron po itong hearing on August 22 at 2 p.m. at doon pagbibigyan ang LTO para ipakita sa korte na walang basehan ang paghinto ng delivery ng (We have a hearing on this on Aug. 22 at 2 p.m. where the LTO will be given the chance to show the court that there is no basis to stop the) delivery of license cards," Mendoza said.
He noted that the only reason to stop printing new license cards with the LTO's new printer and supplier, Banner Plasticard Inc., is if there is "grave and irreparable damage" to its previous supplier.
"I'm confident on August 22 makikita ng korte yung basehan kung bakit di kailangan ihinto ang pag-deliver at proseso ng mga (the court will see our basis as to why it's not necessary to stop the delivery and processing of) driver's license cards," he said.
To date, he said Banner Plasticard Inc. has delivered around 100,000 cards and was supposed to deliver a total of 1 million cards within its first 60 days before the TRO was issued.
"Itong 60 days na to ay matatapos sa katapusan ng September. So yun ang hinahanda natin, ng district offices, na maibaba natin ito agad (The 60-day period will end by end of September. And that's what we are preparing for, by our district offices, so we could distribute these immediately)," he said.
He said the LTO has a backlog of around 1.7 million driver's licenses, reducing its backlog by more than half once Banner Plasticard Inc. completes its first delivery.
"So, with one million cards in the first 60 days, then another one million 60 days thereafter, itong taon na ito tapos na tayo sa backlog (we can end the backlog this year)," he said.
In a separate statement, the LTO assured its intention to adhere to the legal process and follow the Department of Transportation's (DOTr) leadership.
"Right now, we are consulting and coordinating with the Department of Transportation, particularly on the aspect of cushioning the impact of the court's decision on our clients," the LTO said.
"We hope that this issue would be addressed in the soonest possible time because it is the Filipino people who would certainly suffer from a prolonged legal battle," it added.
Earlier, the DOTr awarded the cards supply contract to Banner Plasticard Inc. despite a lower bid from Allcard Inc. due to a "post-qualification process" that resulted in the post-disqualification of Allcard.
DOTr Undersecretary for Administration and Finance Kim Robert de Leon said the post-qualification process entailed getting feedback from other government agencies and private companies where Allcard rendered services and where the disqualification was based on. (PNA)