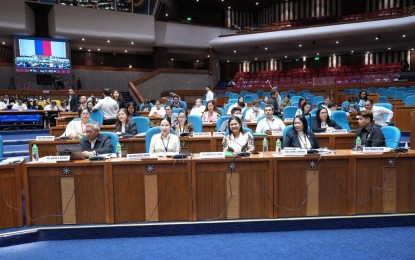 MANILA – The House Committee on Appropriations on Thursday ended the budget briefing on the proposed PHP209.92-billion appropriation of the Department of Social Welfare and Development (DSWD) and its attached agencies for 2024.
During the budget briefing, Committee Vice Chairperson Jocelyn Sy Limkaichong underscored the importance of social services and capacity building in protecting the marginalized sector.
She said Congress aims to address the needs of the public without compromising fiscal prudence.
Limkaichong, who would defend the DSWD budget at the plenary, said she would look into a budget increase for the agency if deemed necessary.
Several House members expressed support for the DSWD, as well as for the augmentation of its 2024 budget so that more Filipinos can benefit from the agency's social services and programs.
DSWD Secretary Rex Gatchalian, who served as a former Valenzuela representative, assured lawmakers that the agency is dedicated to promoting social welfare empowerment and social protection for all Filipinos.
He said the DSWD initiatives are geared at "fostering a society where every individual, regardless of his or her circumstances, can thrive and contribute to the betterment of our nation."
Gatchalian said the bulk of the agency's budget is allotted for maintenance and other operating expenses (MOOE) at PHP196.3 billion, which would finance the social pension and the Philippine Food Stamp Program.
He said the Walang Gutom 2027: Food Stamp Program aims to decrease the incidence of involuntary hunger experienced by low-income households and make them productive citizens of the country.
Through a whole-of-nation approach, he said, the program aims to provide monetary-based assistance in the form of an electronic benefit transfer (EBT) card that will be loaded with food credits amounting to PHP3,000 to buy a select list of food commodities from partner merchant stores.
At least 3,000 households who belong to the lowest income decile shall be selected for the pilot implementation.
Gatchalian reported that the agency will also be implementing new programs, such as the Tara, BASA! Tutoring Program, and OPLAN Pag-Abot for the homeless.
"We, in DSWD, remain steadfast in our mission to uplift the lives of those who are most in need. We recognize that our responsibilities extend far beyond the confines of a fiscal year or a budgetary cycle. Our dedication to creating a society that values the dignity and potential of every individual continues to drive our efforts," he said. (PNA)